MEASURE VERIFICATION MARK

Legislation over many centuries has attempted to specify the form that verification stamps should take but evidence from collections and museums shows such intentions were rarely achieved.
The system of imperial units or the imperial system (also known as British Imperial or Exchequer Standards of 1825) is the system of units first defined in the British Weights and Measures Act of 1824, which was later refined and reduced. The Imperial units replaced the Winchester Standards, which were in effect from 1588 to 1825. The system came into official use across the British Empire.
The first unambiguous and universal provision that all weights and measures should be stamped was introduced by the Weights and Measures Act, 1834.
To enable this, Inspectors were to be appointed to examine all weights and measures used in the course of trade. If satisfied after making the comparison with the local standards, the Inspector would then stamp the article "in such manner as best to prevent fraud".
Even though many verification marks are accompanied by a crown and royal cypher, it isn't correct to assume that any lacking this stamp feature are not verification marks as a variety of initials, heraldic devices and emblems were used.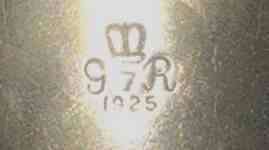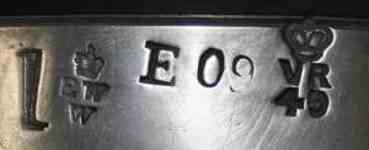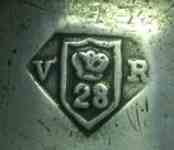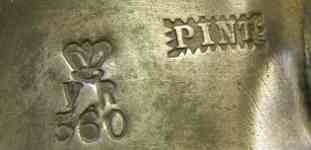 A verification mark signifies that the mug has been inspected by an official Weights & Measures Inspector and found to be of the correct capacity. It became a country-wide legal requirement to stamp all measures with a verification mark in 1835, though some areas such as the Cities of London and Westminster had being done so before this. Until about 1878 each town generally had its own style of mark.
From roughly 1879 onwards a uniform style was adopted consisting of a crown, the monarch's initials (i.e. VR, ER or GR) and a number which signifies the location. Measures were often inspected several times during their lifetime and thus a mug can carry several verification marks.
Sometimes at subsequent inspections the inspector merely stamped a two digit number signifying the year of re-inspection.
In this page are illustrated some measure verification marks with royal cyphers.



www.silvercollection.it
This is a page of 'The What is? Silver Dictionary' of A Small Collection of Antique Silver and Objects of vertu, a 1500 pages richly illustrated website offering all you need to know about antique silver, sterling silver, silverplate, Sheffield plate, electroplate silver, silverware, flatware, tea services and tea complements, marks and hallmarks, articles, books, auction catalogs, famous silversmiths (Tiffany, Gorham, Jensen, Elkington), history, oddities ...
HOME - SITE MAP - SILVER DICTIONARY - COOKIES CONSENT AND PRIVACY