ANOINTING SPOON
ANOINTING SPOON REPLICAS

Authorities agree that the oldest silver spoon known to be English in origin is the Coronation Spoon, preserved among the Crown Jewels in the Tower of London, and that it most probably has been used in Coronations of British Monarchs since the 12th or early 13th Century.
It is made of silver gilt, and is the only remaining piece of the original Royal Regalia. Some of the other items of the Regalia were disposed off by Charles I, the remainder were sold or melted down at the time of the Commonwealth.
The Anointing Spoon was purchased and returned by the purchaser at The Restoration. The spoon is 10 1/4" long, overall, and weighs 3 oz.,8 dwts, decorated with four freshwater pearls set in the widest part of the attenuated handle, which is decorated with chasing up to its writhen top. Overall the design predates Christianity. The thin bowl, which is joined to the stem by a modified elbow depicting the head of a leopard, has a central ridge, thus allowing two fingers of the anointing archbishop to be dipped into the oil.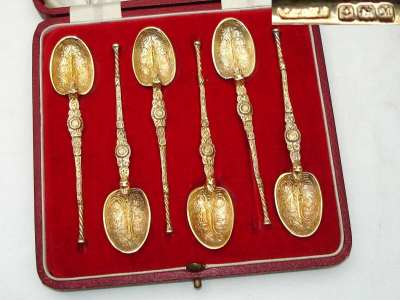 It is thought to have been rebuilt for the 1661 coronation, when the spoon was re-gilt, and is decorated with an arabesque pattern. It may be pointed out that, this, probably the most valuable ancient English spoon in existence, does not possess any authenticating marks.
Sterling silver and silver gilt replicas of the Anointing Spoon have been manufactured for at least 134 years. They vary in accuracy of replication as well as in quality. The early spoons (1873-1909) are fairly consistent in both categories. Much of this depends on when and by whom they were made. However, beginning in 1910 some diminution in quality begins to appear in design and production.
British hallmarks are usually London or Birmingham, but examples also exist from Sheffield, Chester, Edinburgh, and Glasgow. The locations of the hallmarks vary among the interior of the bowl, its back, or on any face of the handle and can be difficult to locate, as they often are hidden within the intricate design of the bowl or handle.
Published pictures of the original spoon exist in coronation and Crown Jewel books, but pictures of replicas are hard to find. One such can be found of an 1883 spoon, hallmarked in London, in Silver Flatware by Ian Pickford, and several pictures are in Silverware of the World.
I have been unable to discover why the first replicas were made. Their years of production do not necessarily coincide with any major celebration connected with the Monarchy.
(the author of the information about Anointing Spoon and its Replicas is Rev. Jack F. Wilson. A wide article about this matter written by Rev. Wilson is available in our companion website www.ASCASonline.org )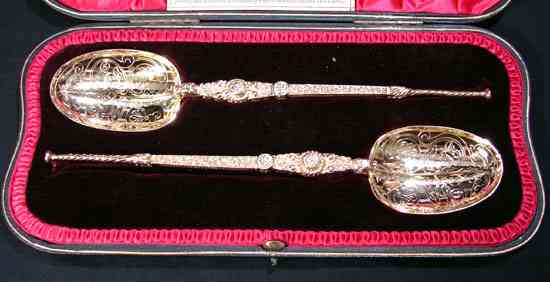 www.silvercollection.it
This is a page of 'The What is? Silver Dictionary' of A Small Collection of Antique Silver and Objects of vertu, a 1500 pages richly illustrated website offering all you need to know about antique silver, sterling silver, silverplate, Sheffield plate, electroplate silver, silverware, flatware, tea services and tea complements, marks and hallmarks, articles, books, auction catalogs, famous silversmiths (Tiffany, Gorham, Jensen, Elkington), history, oddities ...
HOME - SITE MAP - SILVER DICTIONARY - COOKIES CONSENT AND PRIVACY