BUTTER DISH
BUTTER COOLER
REVOLVING BUTTER DISH

Silverplate butter dishes were made in the US from about 1855, but was not until 1880 that they were made in great number and variety.
In America the production of butter, until the rise of factory production about 1860, was a household affair and wooden round, cup-shaped butter molds or "prints" were used by farmers.
It was to accommodate this "prints" that most butter dishes had the shape of a round vessel with a high-domed cover and a pierced platform, so that the melted ice used to cool the butter could drain into the container below.
What to do of the covers when it was removed while the butter dishes were in use was a practical problem. The first solution devised by manufacturers was the use of hinges, but they tended to break. Around 1885 were produced butter dishes balanced on edge in a rack or with an arched handle from which the cover could be hung when the butter was being removed.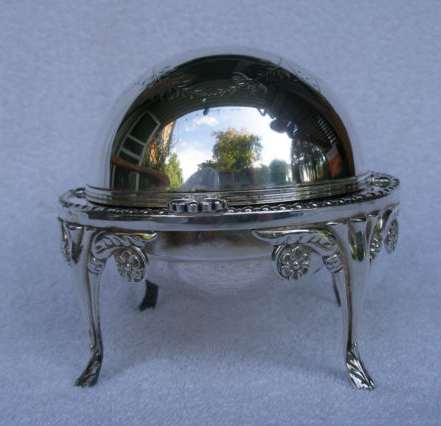 One of the most popular solutions of the problem was the "revolving butter dish". In this case the cover was held by pins on either sides and by turning a handle the cover rolled around under the base.

James H. Stimpson (the son of the inventor of the double-wall ice-water pitcher) patented in 1855 and 1858 his "butter cooler", a solution to improve the efficiency of the device, preserving the butter from direct contact with melting ice and preventing flies and other insects from lighting on the butter.

Another idea about butter dishes adopted around 1870 (possibly patented by Meriden Britannia Co) was the insert of a perforated plate glass fitting over the butter shelf. This device preserved the butter from contact with metal and protected the metal itself from knife scratches.

www.silvercollection.it
This is a page of 'The What is? Silver Dictionary' of A Small Collection of Antique Silver and Objects of vertu, a 1500 pages richly illustrated website offering all you need to know about antique silver, sterling silver, silverplate, Sheffield plate, electroplate silver, silverware, flatware, tea services and tea complements, marks and hallmarks, articles, books, auction catalogs, famous silversmiths (Tiffany, Gorham, Jensen, Elkington), history, oddities ...
HOME - SITE MAP - SILVER DICTIONARY - COOKIES CONSENT AND PRIVACY