CORONATION REGALIA

The coronation of the British monarch is a ceremony in which the monarch of the United Kingdom is formally invested with regalia and crowned at Westminster Abbey.
The essential elements of the coronation have remained largely unchanged for the past thousand years.
The ceremony is performed by the Archbishop of Canterbury during which the monarch is anointed with holy oil, invested with regalia, and crowned.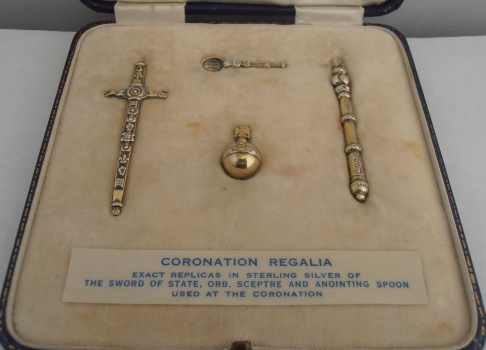 The complex choreography of the coronation ceremony implies the use of various symbols of the royal authority as:
Sovereign's Orb, a hollow gold sphere about 16.5 cm (6 in) in diameter with a jewelled cross atop that was made for Charles II in 1661;
Sovereign's Sceptre with Cross, symbol of temporal power as head of state and Sovereign's Sceptre with Dove, emblem of spiritual role as head of the Church of England;
Sword of State, symbolizing the power of a monarch to use the might of the state against its enemies;
Anointing Spoon, a long silver-gilt spoon with a ridge dividing the bowl in half, creating grooves into which the Archbishop of Canterbury dips two fingers and anoints the monarch on the hands, chest, and forehead, confirming the monarch as head of the Church of England.

Since the 19th century British silversmiths created miniature reproduction of these objects.
Sets of four or more of these silver items were realized, but the preferred product was the anointing spoon, an object that could be reproduced in a size not dissimilar from the original and, moreover, was an article highly appreciated by spoon collectors.
Is incorrect to believe that these spoons were created in the twentieth century as commemoratives in the coronation years. In reality they were made in practically every year (with some wartime exceptions) since at least 1873, that is 28 years before the death of Victoria and the accession of Edward VII.


www.silvercollection.it
This is a page of 'The What is? Silver Dictionary' of A Small Collection of Antique Silver and Objects of vertu, a 1500 pages richly illustrated website offering all you need to know about antique silver, sterling silver, silverplate, Sheffield plate, electroplate silver, silverware, flatware, tea services and tea complements, marks and hallmarks, articles, books, auction catalogs, famous silversmiths (Tiffany, Gorham, Jensen, Elkington), history, oddities ...
HOME - SITE MAP - SILVER DICTIONARY - COOKIES CONSENT AND PRIVACY