FOB
WATCH FOB

A Watch fob is an ornament or a medallion attached to a chain and hanging out of the pocket to assist the owner in locating and removing the watch from a pocket in clothing.
About 1770 the fashion of carrying a watch in waistcoat fob pocket was introduced.
The term "fob" identified both the ornament (sometimes purely decorative, sometimes utilitarian, like a seal or key) and the pocket watch chain where it was attached.
Fobs attached at the waist or to a belt were worn by both men and women.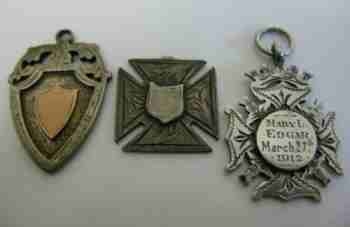 The traditional manner of wearing a pocket watch developed largely at the peak of the pocket watch's popularity during the Victorian age from the middle to late 19th century.
Once a symbol of wealth, with the diffusion of wristwatch in the 20th century the pocket watch has become something of a curiosity.

Now it's part of the ritual for the few using a pocket watch. It may have personal meaning to the wearer or may be used only as a decorative piece of jewelry.
Old silver and gold fobs are avidly researched by collectors.

www.silvercollection.it
This is a page of 'The What is? Silver Dictionary' of A Small Collection of Antique Silver and Objects of vertu, a 1500 pages richly illustrated website offering all you need to know about antique silver, sterling silver, silverplate, Sheffield plate, electroplate silver, silverware, flatware, tea services and tea complements, marks and hallmarks, articles, books, auction catalogs, famous silversmiths (Tiffany, Gorham, Jensen, Elkington), history, oddities ...
HOME - SITE MAP - SILVER DICTIONARY - COOKIES CONSENT AND PRIVACY