HANOVERIAN SPOON

The "Hanoverian" is the most important British flatware pattern in the 18th century. In this pattern the stem widens gradually toward the curved terminal and then turns upward.
This form was adopted because the spoon was lad on the table in the French manner (the bottom of the bowl downward).
This pattern was manufactured in the British Isles from c. 1710 until the 1770s.
The production of Hanoverian pattern was revived in the late 19th century until present days.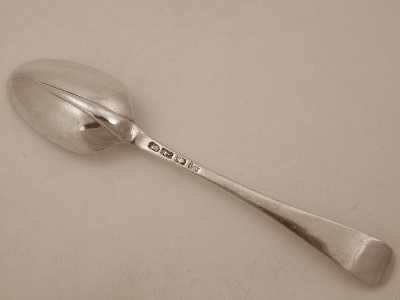 Although the original production covers about sixty years, the pattern can be divided in two main groups: Hanoverian with rat tail (1710-1730) and Hanoverian without rat tail (1730-1770).

The pattern had many variations, contemporary and later (Scottish Fiddle, Feather Edge and Shell, Military Thread, Thread and Drop, Elizabethan, Venetian/Italian, etc.).

www.silvercollection.it
This is a page of 'The What is? Silver Dictionary' of A Small Collection of Antique Silver and Objects of vertu, a 1500 pages richly illustrated website offering all you need to know about antique silver, sterling silver, silverplate, Sheffield plate, electroplate silver, silverware, flatware, tea services and tea complements, marks and hallmarks, articles, books, auction catalogs, famous silversmiths (Tiffany, Gorham, Jensen, Elkington), history, oddities ...
HOME - SITE MAP - SILVER DICTIONARY - COOKIES CONSENT AND PRIVACY