NUTMEG GRATER

The nutmeg grater is an implement for grating nutmeg used principally during the period 1780-1840. There were two types: portable or table type. The systematic production of silver graters for nutmeg began in the late 18th century. A revolution in manners then gripped colonial America, as sophisticated Britons on both sides of the Atlantic began serving punch - a brew of rum or brandy, fruit juice, sugar, and water laced with grated nutmeg and sugar - and a nutmeg grater became an essential addition to the 'punch equipage'.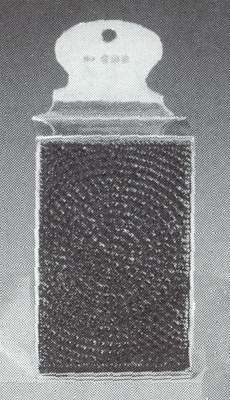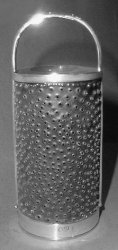 In most cases 'kitchen' nutmeg graters were used with cylindrical or semi-circular form with hinged base, divided interior and the top recessed below the hoop handle. Other 'kitchen' nutmeg graters were of upright rectangular form with a shaped top panel pierced for hanging.
However, small boxes suitable for carrying in the pocket, and used to contain nutmeg, were in use since the 18th century>.


A portable nutmeg grater was usually a small silver container fitted with an inner grate attached to the cover on the inside.
This permitted the powder to fall through into the box,
The graters were made on a great variety of styles and shapes and were in use throughout the first half of the Victorian era.

The most frequent shape was the rectangular form with hinged cover and base, but also the barrel shape unscrewing at the center and with a silver rimmed metal grater was highly popular.
Other popular items were octagonal, oval and cylindrical shaped silver nutmeg graters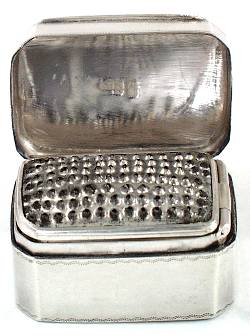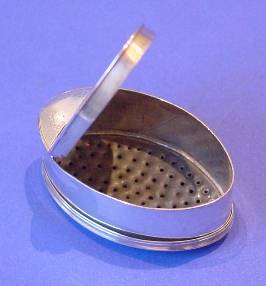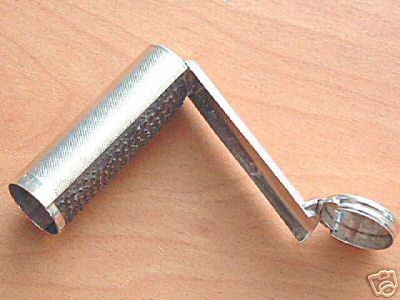 but also circular, egg, spade and urn shapes were widely used
Nutmeg graters were decorated with geometric motifs, bands of foliage and rococo piercing and engraving.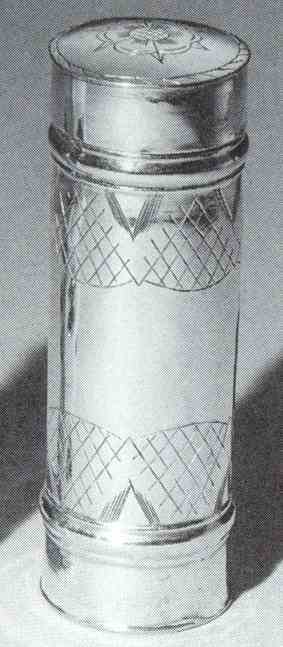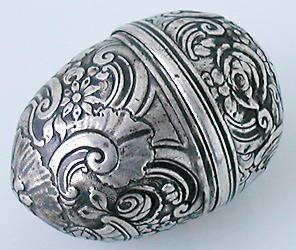 Sometimes the nutmeg grater was obtained by a cowrie shell enclosed by silver straps with a silver hinged cover pierced to form the grater.


Usually these nutmeg graters had the straps with serrated leaf-tip edges and a scroll handle.
There are also examples of Staffordshire enamel nutmeg graters.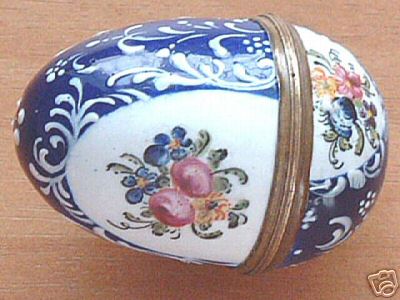 This is decorated with a blue background below white enamel, leaf floral, scroll and shell designs.
In other cases the grater had the shape of a



nutmeg (chased with foliage)

a mace (the acorn-shaped top is fitted with grater, the cylindrical stem unscrewing to reveal an additional grater and corkscrew)

a shallow boat with hinged grater-inset cover and hinged storage compartment (maybe originally intended as snuff or tobacco rasp)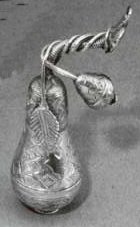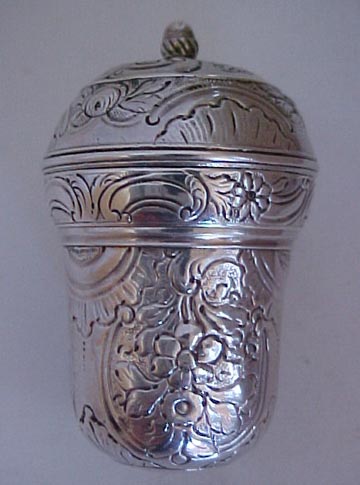 a pear or an acorn.
As utilitarian objects nutmeg graters were used and abused and the rare surviving examples in excellent condition are greatly sought after by collectors.




www.silvercollection.it
This is a page of 'The What is? Silver Dictionary' of A Small Collection of Antique Silver and Objects of vertu, a 1500 pages richly illustrated website offering all you need to know about antique silver, sterling silver, silverplate, Sheffield plate, electroplate silver, silverware, flatware, tea services and tea complements, marks and hallmarks, articles, books, auction catalogs, famous silversmiths (Tiffany, Gorham, Jensen, Elkington), history, oddities ...
HOME - SITE MAP - SILVER DICTIONARY - COOKIES CONSENT AND PRIVACY