SPOON HOLDER
SPOON GOBLET

(VASE SHAPE)

Spoon holders of the "two handled vase" shape may be considered an exclusively American form.
While spoon trays, spoon racks and various combinations of sugar bowls and spoon racks can be found elsewhere, the "vase-shaped" spoon holder is an American invention.

Their production began in the 1850s, being also called "spoon goblets" in early Rogers Bros Mfg. Co catalogs.

The success of this new type of tea/coffee set implement is demonstrated by the presence of 15 spoon holders of different style in 1867 Meriden Britannia Co, 45 in 1885 Reed & Barton and 42 in 1886 Meriden Britannia Co catalogs.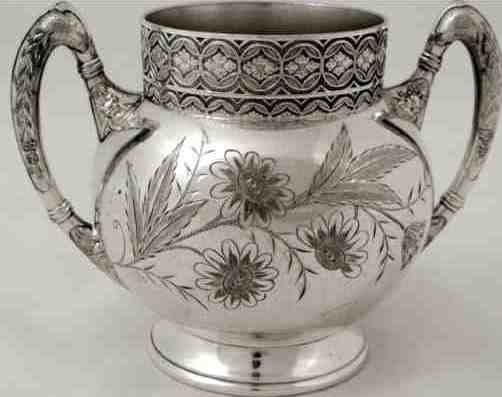 Earlier spoon holders rested on their base, while later examples rested on a pedestal (most) or on four feet (a few).

In the 1870s fancy examples of vase shape spoon holders (without handle) were introduced, incorporating a bell or a flower vase in their design. In the 1880s some double spoon holders were produced.

Spoon holders were part of the tea service and can be distinguished from the waste bowl by the presence of the handles and by their slender and tall shape. Sometimes they can be confused with a sugar bowl, but American examples of sugar bowl have a cover.

Soon after 1900 spoon holders began to go out of fashion, but their presence in catalogs lasted until the 1930s.

www.silvercollection.it
This is a page of 'The What is? Silver Dictionary' of A Small Collection of Antique Silver and Objects of vertu, a 1500 pages richly illustrated website offering all you need to know about antique silver, sterling silver, silverplate, Sheffield plate, electroplate silver, silverware, flatware, tea services and tea complements, marks and hallmarks, articles, books, auction catalogs, famous silversmiths (Tiffany, Gorham, Jensen, Elkington), history, oddities ...
HOME - SITE MAP - SILVER DICTIONARY - COOKIES CONSENT AND PRIVACY