TYG

Tyg is a drinking vessel in use since the Middle Ages. According to Sir James Murray (first editor of "A New English Dictionary on Historical Principles", now known as The Oxford English Dictionary) the word "tyg" is derived from the Anglo - Saxon word tygel, denoting anything made of clay.

Originally the tyg was an earthenware receptacle having two, three or even four handles, set equidistant from each other.

The handles divide the rim into separate sections used by several drinkers and the multiple handles allow hot drinks to be passed around.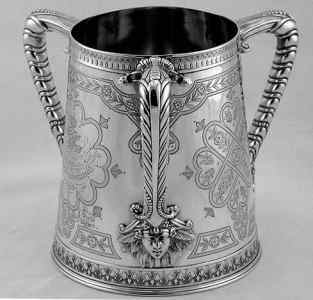 They were mostly made in Staffordshire and in Kent (factories were in Burslem and Wrotham).

Earthenware tyg were produced from the 15th century to mid 17th century and the peak of their popularity was in the 16th and 17th centuries.

Tygs had another life in the late 19th/early 20th century when silver tygs were produced for decorative purpose as sport trophies, presentation cups and Christening mugs.



www.silvercollection.it
This is a page of 'The What is? Silver Dictionary' of A Small Collection of Antique Silver and Objects of vertu, a 1500 pages richly illustrated website offering all you need to know about antique silver, sterling silver, silverplate, Sheffield plate, electroplate silver, silverware, flatware, tea services and tea complements, marks and hallmarks, articles, books, auction catalogs, famous silversmiths (Tiffany, Gorham, Jensen, Elkington), history, oddities ...
HOME - SITE MAP - SILVER DICTIONARY - COOKIES CONSENT AND PRIVACY