BELL

Bell is a hollow metallic object that vibrates and emits a musical note when struck.

The main bells made in silver are:
- a bell in the form of an inverted cup with a vertical handle and a clapper inside. The handle is usually baluster-shaped with a ball finial. Sometimes they have the shape of a ring or of a human figure. Smaller bells were the central unit of an inkstand but, being a separate piece, often they have survived apart from their inkstand Table and inkstand bells were used to call a servant to do an errand;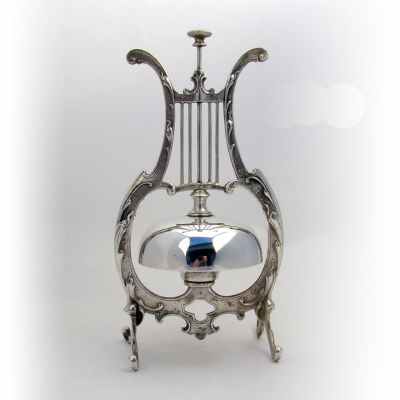 - a hollow metallic perforated sphere containing a loose ball causing a ringing sound when shaken. These devices are attached to baby's rattles or are used as slight bells;

- call or desk bells have the shape of an inverted cup with a button on the top. A mechanical device obtains a musical note when the button is pressed. They were used on the dinner table to call servants and on Hotel desks and store counters to summon clerks;

- electrical bells have a push-button that causes a musical note to be sounded when the button is pressed.

www.silvercollection.it
This is a page of 'The What is? Silver Dictionary' of A Small Collection of Antique Silver and Objects of vertu, a 1500 pages richly illustrated website offering all you need to know about antique silver, sterling silver, silverplate, Sheffield plate, electroplate silver, silverware, flatware, tea services and tea complements, marks and hallmarks, articles, books, auction catalogs, famous silversmiths (Tiffany, Gorham, Jensen, Elkington), history, oddities ...
HOME - SITE MAP - SILVER DICTIONARY - COOKIES CONSENT AND PRIVACY