BERRY SPOON

Berry spoon is a type of spoon having on the bowl an embossed decoration of berries or fruits and, sometimes, gilded interior of the bowl.
Most of these spoons were obtained embossing and chasing earlier plain spoons with fruit and foliate scrolls.
This practice started in mid 19th century and consisted in embossing and chasing bowls and stems of plain spoons with fruits and foliate scrolls.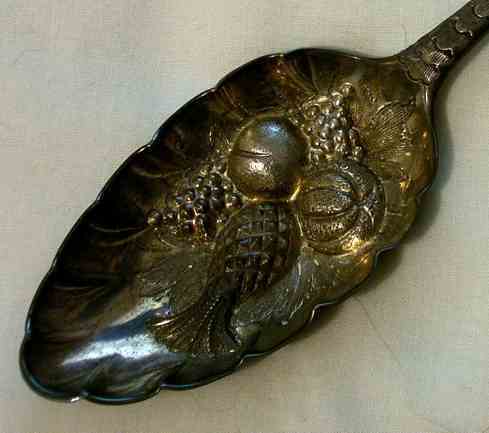 Most berry spoons bearing marks dating prior to the mid 19th century were submitted to a process of later decoration. Georgian berry spoons don't exist and the proper definition is, e.g., "Georgian spoon in Old English pattern, with later decoration".
This practice continues in present days and the preferred patterns are the Hanoverian and the Old English.

Obviously exists also a production of original berry spoons (not obtained by re-worked ancient spoons).

In this page are illustrated some American and Continental Europe examples.

www.silvercollection.it
This is a page of 'The What is? Silver Dictionary' of A Small Collection of Antique Silver and Objects of vertu, a 1500 pages richly illustrated website offering all you need to know about antique silver, sterling silver, silverplate, Sheffield plate, electroplate silver, silverware, flatware, tea services and tea complements, marks and hallmarks, articles, books, auction catalogs, famous silversmiths (Tiffany, Gorham, Jensen, Elkington), history, oddities ...
HOME - SITE MAP - SILVER DICTIONARY - COOKIES CONSENT AND PRIVACY