BOSUN WHISTLE
BOATSWAIN'S CALL

Bosun (or Bo'sun or Boson) whistle derives its name from 'boatswain', a warrant officer on a warship, or a petty officer on a merchant vessel, in charge of rigging, anchors, cables, etc.

Historically it was used to pass commands to the crew as its high pitch could be heard over the activities of the crew and bad weather.

In present days it is used in traditional bugle calls announcing certain events and ceremonies in modern navies.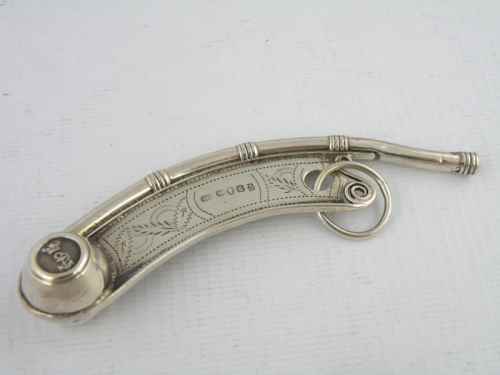 It is a standard equipment in military navies all over the world and on each boat there is an Officer or a sailor trained to the various call codes and in charge of using the whistle.

A boatswain's call or bosun whistle is a pipe or a type whistle without diaphragm consisting of a narrow tube (the gun) which directs air over a metal sphere (the buoy) with a hole in the top. The player opens and closes the hand over the hole to change the pitch.
From the middle of the 18th century three sets of rings around the pipe are a traditional ornament of English bosuns

Such instruments are private possessions rather than official equipment and silver calls were in the past suitable gifts and presentation pieces.

www.silvercollection.it
This is a page of 'The What is? Silver Dictionary' of A Small Collection of Antique Silver and Objects of vertu, a 1500 pages richly illustrated website offering all you need to know about antique silver, sterling silver, silverplate, Sheffield plate, electroplate silver, silverware, flatware, tea services and tea complements, marks and hallmarks, articles, books, auction catalogs, famous silversmiths (Tiffany, Gorham, Jensen, Elkington), history, oddities ...
HOME - SITE MAP - SILVER DICTIONARY - COOKIES CONSENT AND PRIVACY