BRANDY SAUCEPAN
SKILLET

The brandy saucepan is a small vessel of circular bulbous baluster form bulging towards the bottom. In some cases the bowl is cylindrical.
It has everted rim and a short spout at right angles to the turned wooden or ivory handle pinned to a silver ferrule.
Brandy saucepans rest on a flat bottom and have changed little in form from the Queen Anne period through the mid-19th century.
Those in the early 18th century tend to be smaller, while the latter 18th century are larger, often half pint in capacity.
They were probably used to warm butters and sauces as well brandy and mulling wine.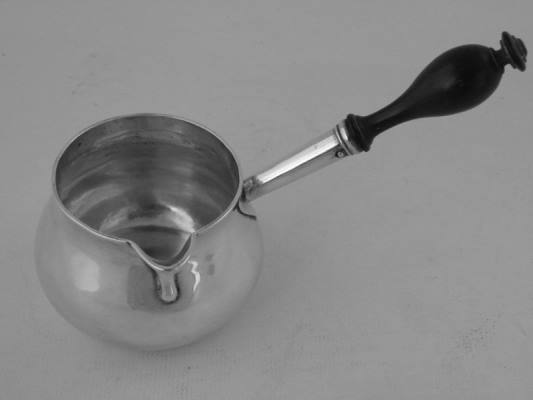 The skillet is a culinary utensil similar to a brandy-saucepan differing in lacking of the lip and having three or four short legs on the bottom.

The handle can be either vertical (in metal) or horizontal (in wood). The cover can be flat or in the form of an upside-down porringer.

Few silver examples of skillets from the 18th and 19th century have survived.

www.silvercollection.it
This is a page of 'The What is? Silver Dictionary' of A Small Collection of Antique Silver and Objects of vertu, a 1500 pages richly illustrated website offering all you need to know about antique silver, sterling silver, silverplate, Sheffield plate, electroplate silver, silverware, flatware, tea services and tea complements, marks and hallmarks, articles, books, auction catalogs, famous silversmiths (Tiffany, Gorham, Jensen, Elkington), history, oddities ...
HOME - SITE MAP - SILVER DICTIONARY - COOKIES CONSENT AND PRIVACY