CADDY SPOON

Caddy spoon is a type of spoon for use in taking dry tea from a tea-caddy. It is small enough to fit inside the tea-caddy.
Early examples were developed in the mid 18th century. They were made by two main methods. Sometimes the ladle bowl was die struck and the handle pressed, the handle and the bowl then being joined by hand while others were stamped in a single piece.
Their variety is amazing and their decoration might be embossed, chased, engraved, bright-cut, fluted or left quite plain.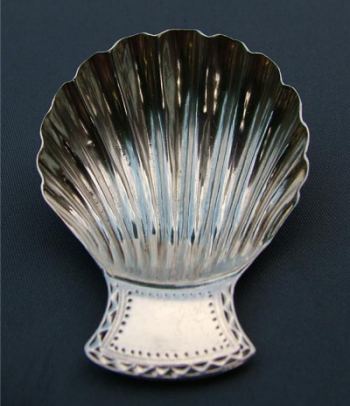 From about the second decade of the 19th century very ornate examples were cast. A very popular shape was that of the jockey cap, the inside the cap being the ladle, and the visor the handle. Other have the bowl in the shape of a leaf, bird's wing, salmon, shovel, etc.
At the beginning pf the 19th century war trophies were fashionable, including cannon, drum, fife, bayonet and sword. The bowl of the spoon would be embossed with one of these and sometimes the handle would bear the name of a victory.
Other shapes included the shell-shaped bowl, various types of filigree, acorns and thistles.
Caddy spoons made towards the end of the 18th century and for the first few years of the 19th century are the most delicate of all. Later 19th century examples tended to be heavier and more ornate and bore little resemblance to the fragile 18th century specimen.

www.silvercollection.it
This is a page of 'The What is? Silver Dictionary' of A Small Collection of Antique Silver and Objects of vertu, a 1500 pages richly illustrated website offering all you need to know about antique silver, sterling silver, silverplate, Sheffield plate, electroplate silver, silverware, flatware, tea services and tea complements, marks and hallmarks, articles, books, auction catalogs, famous silversmiths (Tiffany, Gorham, Jensen, Elkington), history, oddities ...
HOME - SITE MAP - SILVER DICTIONARY - COOKIES CONSENT AND PRIVACY