A SMALL COLLECTION OF ANTIQUE SILVER
AND OBJECTS OF VERTU
THE WHAT IS? SILVER DICTIONARY
CANTEEN

A case used by travellers and military officers to carry articles of silverware for eating and drinking.
It was a practice of English officers to travel with a canteen of silver to entertain in a proper fashion and style when posted to distant parts of the English Empire. The oak box would have made a good companion piece to the wooden campaign chests, desks, and beds with which they also traveled.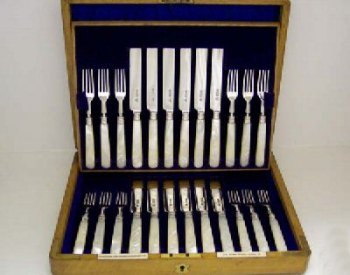 Later the term was extended to to a case for domestic use for storing silver flatware and cutlery and a canteen is simply a set of tableware often with 12 place settings. A half-canteen has 6 place settings and a double canteen has 24. There are other sizes and often any boxed set of silver tableware may be properly labeled as a canteen.
Canteen in English translates simply to a 'set' in American.


www.silvercollection.it
This is a page of 'The What is? Silver Dictionary' of A Small Collection of Antique Silver and Objects of vertu, a 1500 pages richly illustrated website offering all you need to know about antique silver, sterling silver, silverplate, Sheffield plate, electroplate silver, silverware, flatware, tea services and tea complements, marks and hallmarks, articles, books, auction catalogs, famous silversmiths (Tiffany, Gorham, Jensen, Elkington), history, oddities ...
HOME - SITE MAP - SILVER DICTIONARY - COOKIES CONSENT AND PRIVACY