CHEESE TOASTER
TOASTED-CHEESE DISH

Among the innovation of the last quarter of the eighteenth century were specialized dishes for melting cheese on toast. Usually the inside of the dish is divided up into sections with six to twelve small removable pans.

The "cheese toaster" is equipped with a hot-water compartment. As was the case with the vegetable dishes, the hot water could be poured into the jacket of the dish by unscrewing the handle or lifting up a small cap at the side.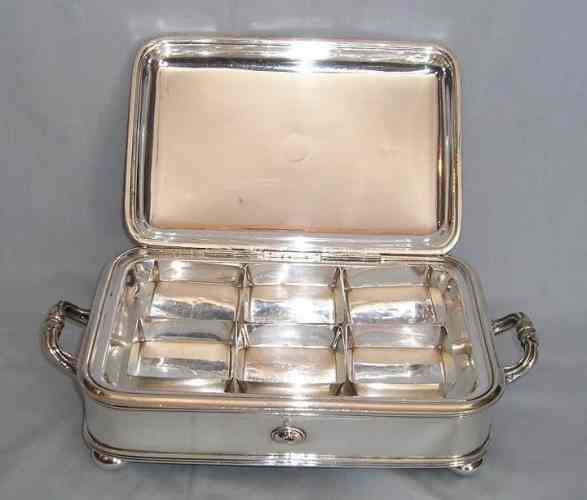 The cheese was cut into thin slices and deposited on toast or bread. Squares of toasted bread were thereby kept warm while the cheese layered on top melted by the heat of an open fire.

The cover was raised to an angle and secured with a silver chain affixed to a ring on the handle socket and hooked around the waist of the finial.
The reflective interior of the cover aided the process of melting and toasting the cheese. The hot water kept the toast warm while the cheese was browning.

Mention of the term "cheese toaster" appears in an entry in the Parker and Wakelin ledgers itemizing "a Cheese toaster with water plate and reflector supplied in 1772 to Lord Molineaux".



www.silvercollection.it
This is a page of 'The What is? Silver Dictionary' of A Small Collection of Antique Silver and Objects of vertu, a 1500 pages richly illustrated website offering all you need to know about antique silver, sterling silver, silverplate, Sheffield plate, electroplate silver, silverware, flatware, tea services and tea complements, marks and hallmarks, articles, books, auction catalogs, famous silversmiths (Tiffany, Gorham, Jensen, Elkington), history, oddities ...
HOME - SITE MAP - SILVER DICTIONARY - COOKIES CONSENT AND PRIVACY