DISH RING
POTATO RING

It is a dinner table or sideboard accessory in the form of a hollow cylindrical or spool-shaped ring. They were used to support food dishes on the dining table, helping a grand display and protecting the surface from hot food heat.
They were introduced at the end of the 17th century in France, England and Ireland. Some have the same width at top and bottom, but most have different diameter of the rim so that they could be reversed to support containers of different sizes.
From the 1740s dish rings are usually spool-shaped and their incurved sides offer the opportunity to silversmiths to create decorative patterns using various techniques as piercing, chasing and engraving.
Piercing had also a further practical benefit, allowing the air under hot dishes to be vented contributing to maintain polished surface of the table preserved from heat damage.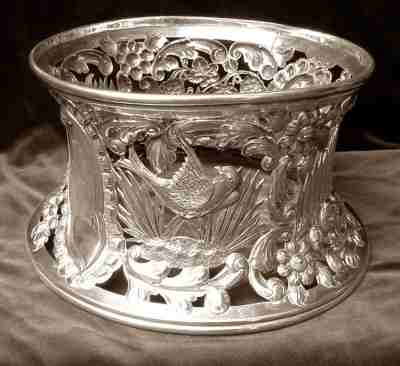 So many 18th century Irish dish rings are found that they became virtually synonymous with Irish silverware and the misnomer of "Irish potato ring" was coined, without any historical justification, at the end of the 19th century.
The principal types of dish rings had:
- vertical openwork bands between the rims,
- sloping concave band entirely decorated with openwork and embossing,
- vertical band decorated with openwork in the form of pales,
- simple form entirely of wire with two horizontal circles joined by four connecting vertical arms.
Dish rings went out of fashion at the end of the 18th century and few can be found with 1800s hallmarks until towards the end of that century.
The revival of interest for collecting silver with "ethnic characteristics" encouraged the rebirth of new production of dish rings, most of them being made in English centres (as well as in Dublin) copying the Rococo forms of a century earlier.
Some examples have a blue glass liner, but this is only a late addition having only decorative purposes.

www.silvercollection.it
This is a page of 'The What is? Silver Dictionary' of A Small Collection of Antique Silver and Objects of vertu, a 1500 pages richly illustrated website offering all you need to know about antique silver, sterling silver, silverplate, Sheffield plate, electroplate silver, silverware, flatware, tea services and tea complements, marks and hallmarks, articles, books, auction catalogs, famous silversmiths (Tiffany, Gorham, Jensen, Elkington), history, oddities ...
HOME - SITE MAP - SILVER DICTIONARY - COOKIES CONSENT AND PRIVACY