DUTY DODGER
DUTY MARK
PSEUDO HALLMARK

In England duty has been paid as a tax on silverware since 18th Century. The tax was paid at the time of assay, and the amount due related to the weight of the article. From 1784 until 1890 a mark with the head in profile of the Sovereign in escutcheon was punched on articles to attest that the excise duty had been paid.
"DUTY DODGER" is the definition of unscrupulous silversmiths that used several methods to avoid paying the tax:
- inserting into a new article an existing set of hallmarks removed from an old piece;
- stamping his own makers mark four times to simulate hallmarks and then distorting them (especially on spoons) so that an unwary buyer might think them to be official marks of the Assay Office;
- inserting into a large piece a small disk bearing marks from an article on which a low tax had been paid.
Duty Dodger is also the definition applied to a piece so altered and considered fake and illegal.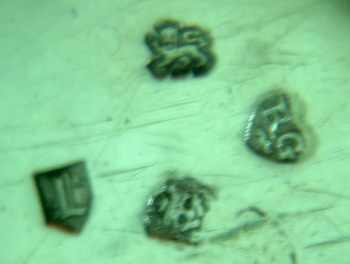 An example of "Duty Dodging" was presented in our companion website www.ASCASonline.org: a coffee pot bearing London hallmarks.
In ASCAS website Giovanni Ciceri (http://www.argentinglesi.com) wrote:
.....'Duty dodging' requires a close examination of hallmarks. At that time, coffee pots hallmarks were impressed either in a straight line (just under the edge of the pot, starting from the handle), or in the base (the maker's mark positioned in the centre and the others symmetrically impressed around it). Hallmarks impressed in a straight line under the pot or scattered around the maker's mark are highly probably the result of 'duty dodging'. Usually coffee pots subjected to 'duty dodging' were hallmarked in the base, the best position to hide soldering signs (if they are impressed in a straight line under the pot they are, quite surely, taken from a spoon). Sometimes, is easy to identify these forgeries as a line of deeper colour appears around the transposed hallmarks, owing to the faster oxidizing of the soldering alloy (it contains a lower amount of silver than the sterling standard). The best way to evidence this dark outline is to breathe on the hallmark or to heat with a flame.
But, usually, discovering 'duty dodging' isn't an easy task. A quite perfect technique of 'duty dodging' was to solder under the pot a dish obtained by hammering an open salt cellar, just at the junction between the base, the seamed body of the pot and the foot. This fraud may be evidenced only unsoldering the pedestal and ascertaining the presence of a double bottom. Another way is to verify the presence of the so called 'ghost hallmarks' (the relief left inside the pot by mark's impression). If the 'ghost hallmarks' correspond to the position of the hallmarks on the outside and there's no evidence of transposition, 'duty dodging' may be reasonably excluded. (obviously the 'duty dodgers' finishing the object may have eliminated the 'wrong ghost hallmarks' or the plate's thickness may have prevented their presence). A close inspection of our coffee pot may exclude any 'duty dodging' or transposition of hallmarks....
Ultimately the London Assay Office verified the piece and found it to be a 'duty dodger'.
The DUTY MARK was punched on English silver items from December 1, 1784 to April 30, 1890. This mark was the head in profile of the reigning Sovereign in an escutcheon. In Ireland the duty mark was imposed since 1730 and until 1807 was the seated figure of Hibernia (thereafter the Sovereign's head was introduced). In Scotland the duty mark of the Sovereign's head was introduced in 1819.
These are the main characteristics (with numerous variants) of Sovereign's head marks:
George III facing left, punched in intaglio in an octagonal escutcheon, from December 1784 to 29 May 1786
George III facing right, punched in relief into an oval escutcheon, from 1786
George IV facing right, punched in relief into an oval escutcheon, from 1821
William IV facing right, punched in relief into an oval escutcheon, from 1834
Victoria facing left, punched in relief into an oval escutcheon, until 1890
LON=London - BIR=Birmingham - DUB=Dublin - EDI=Edinburgh - GLA=Glasgow - SHE=Sheffield
| | | | | | | | |
| --- | --- | --- | --- | --- | --- | --- | --- |
| | | | | | | | |
| 1784 (LON) | 1787 (LON) | 1795 (LON) | 1797 (LON) | 1804 (LON) | 1812 (DUB) | 1818 (EDI) | 1818 (LON) |
| | | | | | | | | |
| --- | --- | --- | --- | --- | --- | --- | --- | --- |
| | | | | | | | | |
| 1822 (SHE) | 1823 (LON) | 1824 (BIR) | 1825 (DUB) | 1825 (DUB) | 1826 (LON) | 1829 (DUB) | 1832 (EDI) | 1832 (DUB) |
| | | | | | | | |
| --- | --- | --- | --- | --- | --- | --- | --- |
| | | | | | | | |
| 1833 (GLA) | 1835 (EDI) | 1835 (LON) | 1838 (LON) | 1854 (LON) | 1862 (BIR) | 1871 (LON) | 1871 (SHE) |
From July 15 1797, for nine months, the King's Head was duplicated owing to the Duty being doubled.


In 1798 an Act of Parliament (24 George III c. 64, s. 5 An Act to repeal the duties on gold and silver plate used in watch cases) allowed exemptions to payment of duty to "watch cases, chains, necklace-beads, philligree works, shirt buckles or brooches, stamped medals, and spouts to china, stone or earthenware tea-pots of silver, of any weight whatsoever."
The exemption interested also various other classes of articles weighing less of ten and five pennyweights.
The "Duty Drawback" mark was used from December 1, 1784 to July 24, 1785 to claim back the duty when the item was exported
The punch for this mark was engraved in two forms. One fairly large free standing figure and one much smaller example which was entirely enclosed within a punch outline



In English Colonies there was no official system of silver hallmarking. Local silversmiths used to identify their works with series of symbols imitating the English hallmarks.
The use of marks imitating "Sovereign's head", "town mark" and "date letter" used in the homeland was a common practice by American, Canadian, Australian and Cape silversmiths.
These marks were only a maker's mark with no official value and are commonly called "PSEUDO HALLMARKS".
Jacob Josephson, Australia Colony
c. 1820 pseudo-hallmark

John Townsend, active 1824-1840,
Cape Colony 1830 c. pseudo-hallmark
George Savage, Canada
c.1830-1850 pseudo hallmark

Amos Page, Canada, Amherst - Nova Scotia
c. 1870s pseudo hallmark

www.silvercollection.it
This is a page of 'The What is? Silver Dictionary' of A Small Collection of Antique Silver and Objects of vertu, a 1500 pages richly illustrated website offering all you need to know about antique silver, sterling silver, silverplate, Sheffield plate, electroplate silver, silverware, flatware, tea services and tea complements, marks and hallmarks, articles, books, auction catalogs, famous silversmiths (Tiffany, Gorham, Jensen, Elkington), history, oddities ...
HOME - SITE MAP - SILVER DICTIONARY - COOKIES CONSENT AND PRIVACY