EGG BOILER - EGG CODDLER
EGG CUP
EGG-CUP FRAME
EGG SPOON

The egg boiler (or egg coddler) is a vessel used to boil or coddler one or more eggs.
It has a cylindrical or oval shape with a dome.
The receptacle contains a frame or wire rings holding the eggs while being cooked.
The central handle with a loop allows to lift the device from the water.
They are usually accompanied by a stand holding a spirit lamp.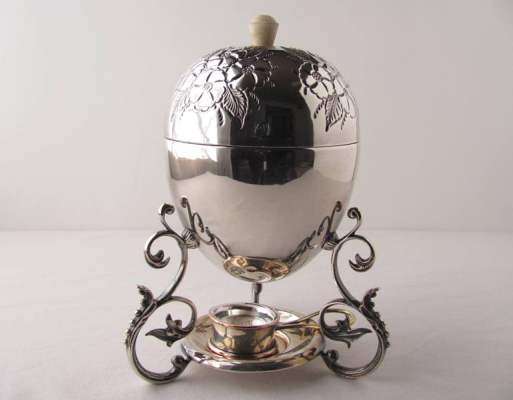 The egg-cup is a small semi-ovoid cup on a stemmed base used for serving a boiled egg.
Sometimes they have openwork decoration or pierced patterns.
Around the top they have a rim or an everted shape to support the cup when placed in the egg-cup frame.

The egg-cup frame is a stand supporting several egg cups.
They consist of a tray of various forms and styles (square, oval, triangular or canoe shape) or a circular guard-ring where the egg-cups are suspended. Often the base has little studs which fit into the bases of the egg cups.
Sometimes the egg-cup frame is combined with a frame holding egg-spoons, salt cellar and toast rack.

www.silvercollection.it
This is a page of 'The What is? Silver Dictionary' of A Small Collection of Antique Silver and Objects of vertu, a 1500 pages richly illustrated website offering all you need to know about antique silver, sterling silver, silverplate, Sheffield plate, electroplate silver, silverware, flatware, tea services and tea complements, marks and hallmarks, articles, books, auction catalogs, famous silversmiths (Tiffany, Gorham, Jensen, Elkington), history, oddities ...
HOME - SITE MAP - SILVER DICTIONARY - COOKIES CONSENT AND PRIVACY