A SMALL COLLECTION OF ANTIQUE SILVER
AND OBJECTS OF VERTU
THE WHAT IS? SILVER DICTIONARY
ELECTROTYPE (METALWORK)
GALVANOPLASTY

Electrotyping is a chemical method used to produce a metal facsimile of any object.

The process consists in forming from the model a soft material mold (wax or gutta-percha) and coating its surface with a thin layer of graphite powder to make it electrically conductive.

The mold, acting as a cathode, is immersed in an electrolyte solution and a wire is connected to the electrical source and to the metal anode (also immersed in the solution).

The electrical current dissolves the metal atoms of the anode which enter in the electrolyte as ions taken up by the conducting surface of the mold.

The electrical circuit is closed when the metal layer on the mold reaches the requested thickness.

Base-metal electrotypes could be silver plated, or gilt to more closely resemble the original work.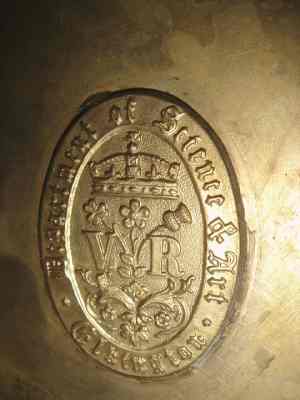 The difference between electroplating and electrotyping is that the first adds a thin metallic layer to an object, while the second creates a freestanding metal object of the desired thickness.

In the Victorian era electrotyping was largely used in the campaign promoted by the South Kensington Museum of London (now the Victoria & Albert Museum) to distribute copies of important metalwork artefacts to provincial museum, libraries and schools.

The highlight of this initiative was reached in 1867, when fifteen European nations signed the Convention for the International Exchange of Reproductions of Works of Art, permitting Elkington & Son and Franchi and Son to produce replicas of objects from the royal treasures of Germany, France, Russia and England.

This technique was largely used also outside the UK and among the most relevant manufacturers are Tiffany & Co in the USA and WMF in Germany.

www.silvercollection.it
This is a page of 'The What is? Silver Dictionary' of A Small Collection of Antique Silver and Objects of vertu, a 1500 pages richly illustrated website offering all you need to know about antique silver, sterling silver, silverplate, Sheffield plate, electroplate silver, silverware, flatware, tea services and tea complements, marks and hallmarks, articles, books, auction catalogs, famous silversmiths (Tiffany, Gorham, Jensen, Elkington), history, oddities ...
HOME - SITE MAP - SILVER DICTIONARY - COOKIES CONSENT AND PRIVACY