FILIGREE
FALSE FILIGREE

The term filigree is derived from Italian word filigrana, which is originally from the Latin word filum, meaning a thread of wire and granum meaning a grain or bead. Early practices of wirework jewelry and decorative items were created using small pieces of metal or granules for design.
Filigree refers to the process and type of design that uses twisted wire to create delicate, lacy, openwork jewelry. Usually made from finer metals like gold, silver and platinum, filigree has been used for centuries to craft jewelry such as pins, rings and pendants.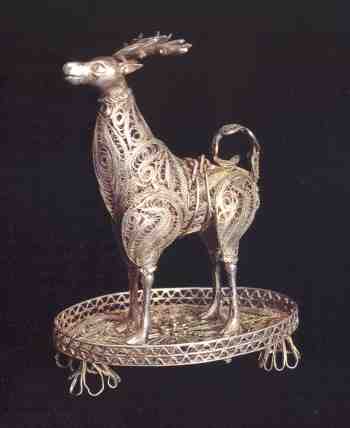 There are four basic structural ways to create filigree. The first type is openwork, where the design does not have a backing and is generally constructed with a heavier wire. Wires are soldered together at points to hold the design together. The second type is ground-supported, where a supporting surface is used and all wire points are soldered to a surface which is most frequently sheet metal. The third type combines openwork and ground-supported types, so that the completed types of openwork wires are attached to sheet metal. Attachment types could be non-soldering methods, such as split rivets, rivets, bezels, or claws. The fourth type is when a material is added to fill between the wires, such as enamel.
False filigree is a style of decoration on metal, including silverware, that is an imitation of filigree. False filigree is made mainly by soldering ornamental wire to a punch and than hammering it into a sheet of metal from the back or by casting a piece from a model that was already decorated with true filigree or by die-stamping.

www.silvercollection.it
This is a page of 'The What is? Silver Dictionary' of A Small Collection of Antique Silver and Objects of vertu, a 1500 pages richly illustrated website offering all you need to know about antique silver, sterling silver, silverplate, Sheffield plate, electroplate silver, silverware, flatware, tea services and tea complements, marks and hallmarks, articles, books, auction catalogs, famous silversmiths (Tiffany, Gorham, Jensen, Elkington), history, oddities ...
HOME - SITE MAP - SILVER DICTIONARY - COOKIES CONSENT AND PRIVACY