POCKET KNIFE
FOLDING KNIFE
FRUIT KNIFE
PENKNIFE

this is a type of small knife with folding blade. They were made since ancient times and Roman examples of first century A.D. knives are exhibited in British museums.
In medieval and later times such knives were produced in many countries.
Not until the mid seventeenth century were these useful tools fully established, with the invention of the spring-back to hold the blade open or closed.
Sheffield and Birmingham in England were the greatest centers for production of silver folding pocket knives.
The term 'penknife' is a misnomer for what is correctly called a pocket knife.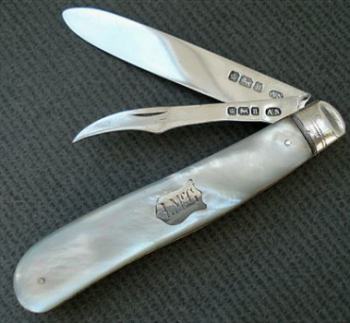 Mother-of-pearl was the preferred material used for knives' handles, but examples in ivory, stag horn, tortoise, ebony, beech, rosewood, coco, bone and synthetic materials were widely used.
Pocket knives of the 19th century were manufactured in many patterns to suit different purposes.

They were made with one to eight blades. Other equipage in addition to one or more blades were scissors, gouges of several types, saws, nail-files or manicure tools, corkscrews, tin openers, erasers, prickers, tweezers, button hooks, ear cleaning spoons and many other tools.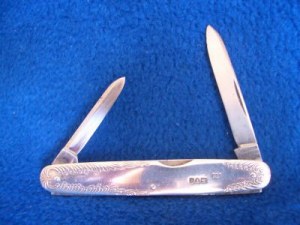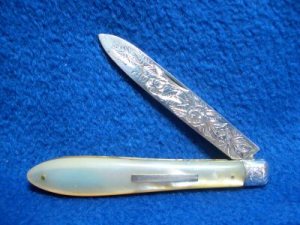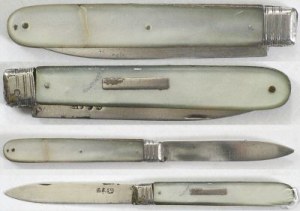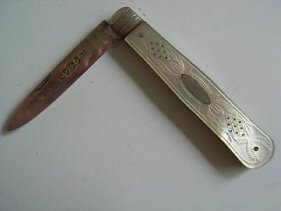 www.silvercollection.it
This is a page of 'The What is? Silver Dictionary' of A Small Collection of Antique Silver and Objects of vertu, a 1500 pages richly illustrated website offering all you need to know about antique silver, sterling silver, silverplate, Sheffield plate, electroplate silver, silverware, flatware, tea services and tea complements, marks and hallmarks, articles, books, auction catalogs, famous silversmiths (Tiffany, Gorham, Jensen, Elkington), history, oddities ...
HOME - SITE MAP - SILVER DICTIONARY - COOKIES CONSENT AND PRIVACY