HIP FLASK
SADDLE FLASK

Hip flasks may have had their origin in the pilgrim bottle or flask, commonly associated with religious pilgrimages in medieval times. The pilgrim flask is a vessel with a body varying from an almost full circle, flattened, to a pear shape, with a short neck, spreading foot and, generally, two loops on the shoulders.
Through the loops either a chain or cord was passed for carrying the bottle to be slung over the shoulder of the traveller or hung from a saddle or for maintaining the stopper in place.
Flattened egg-shaped bodies appeared in 16th century in Britain and Europe. In the 17th century larger examples were used as sideboard plate; in the 18th century they were decoratively embossed. Later derivatives, the saddle and hip flasks, were designed mainly for spirits.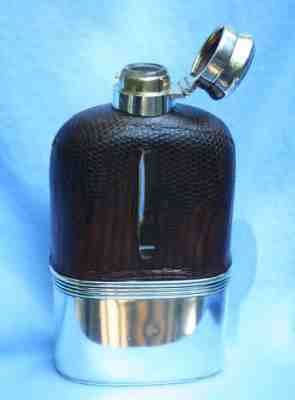 The hip flask in the form recognised today was made since the late 19th century. Most of them are made of silver or chromed metal, often encased in leather cover for decoration. They have a hinged lid which opens and closes with a bayonet twist movement or a screw-on cap with cork lining. Some have the base fitted with a drinking cup to make sharing easier, although generally liquid is drunk directly from the flask.
Quality hip flasks have a glass lining, preventing metallic flavour leaching from the metal body into the drink. They are usually contoured to match the curve of the wearer's hip or thigh, for comfort and discreetness.
The saddle flask are an elongated metal or glass container with a pointed end and hinged silver stopper encased in a leather holder which could be suspended from a saddle.
They were useful accessories for the sportsman out grouse shooting, trout fishing or hiking on the moors. Special leather containers were realized to hold a Sandwich case together with a hip flask.
The hip flask is popular as gift or commemorative item and often is engraved with a short quote or a date for a memorable occasion.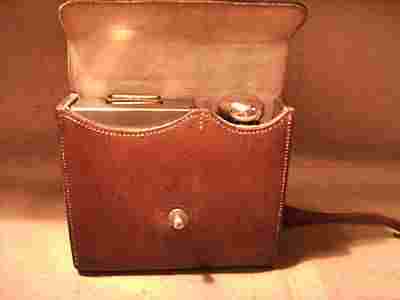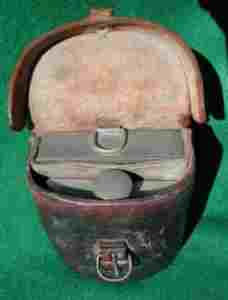 www.silvercollection.it
This is a page of 'The What is? Silver Dictionary' of A Small Collection of Antique Silver and Objects of vertu, a 1500 pages richly illustrated website offering all you need to know about antique silver, sterling silver, silverplate, Sheffield plate, electroplate silver, silverware, flatware, tea services and tea complements, marks and hallmarks, articles, books, auction catalogs, famous silversmiths (Tiffany, Gorham, Jensen, Elkington), history, oddities ...
HOME - SITE MAP - SILVER DICTIONARY - COOKIES CONSENT AND PRIVACY