MINT JULEP CUP

The Mint Julep originated in the southern United States, probably during the early 19th century.
It is a drink made with four ingredients: mint leaf, bourbon, sugar, and water.

Spearmint is the mint of choice used in Southern states, and in Kentucky in particular, and traditionally Mint Juleps were served in silver or pewter cups held only by the bottom and top edges of the cup. This allows frost to form on the outside of the cup.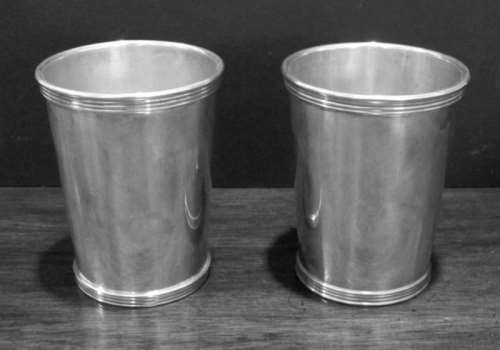 The cup is traditionally 6.5 inches tall, with a top diameter of 4 inches, a flat bottom and straight sides that flare only slightly at the top. Thin, grooved bands run along the top and bottom.
The Kentucky Mint Julep cups were traditionally inspired to the work of early silversmiths Asa Blanchard of Lexington and William and Archibald Cooper of Louisville.

In Kentucky, for over 200 years, Julep Cups were at the centre of events as christenings, weddings, fairs and horse races.

They were a popular gift as symbol of esteem and prestige. They are often inscribed with dedications, commemorative messages or owner's initials.
(information based on Wikipedia website)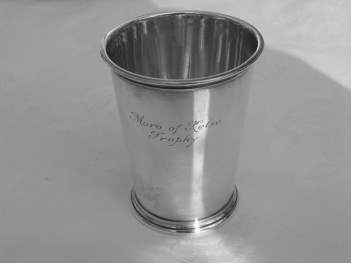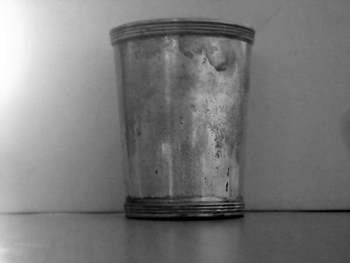 www.silvercollection.it
This is a page of 'The What is? Silver Dictionary' of A Small Collection of Antique Silver and Objects of vertu, a 1500 pages richly illustrated website offering all you need to know about antique silver, sterling silver, silverplate, Sheffield plate, electroplate silver, silverware, flatware, tea services and tea complements, marks and hallmarks, articles, books, auction catalogs, famous silversmiths (Tiffany, Gorham, Jensen, Elkington), history, oddities ...
HOME - SITE MAP - SILVER DICTIONARY - COOKIES CONSENT AND PRIVACY