KNIFE REST

Knife rest is a small low utensil for supporting the blade of a knife at the dinner table in a manner that it does not soil the tablecloth.

The most common are composed of a horizontal bar joining the center of two X shaped supports.
Other examples were made in fantasy style assuming the shape of horses, dogs, birds, horns and other animals.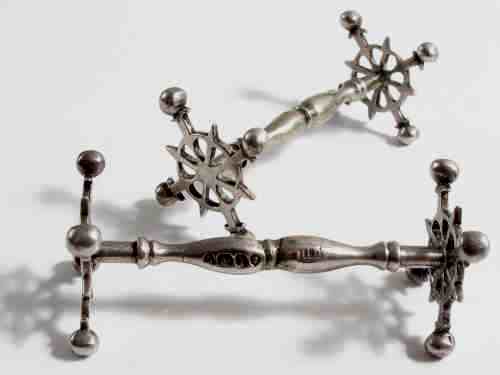 Knife rests in their modern form were invented in the late 17th century or early 18th century.

In the Victorian era, knife rests were created in a wide variety of materials, designs, and configurations. Materials used included gold, silver, mother of pearl, pottery, glass, ivory, horn and every combinations of each.

Knife rests were used at table through the first half of the twentieth century, but now usually are purchased mostly as collector's items.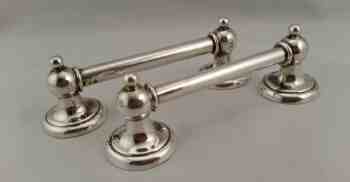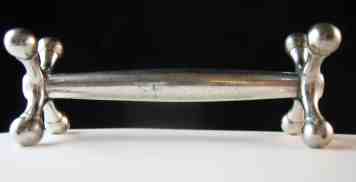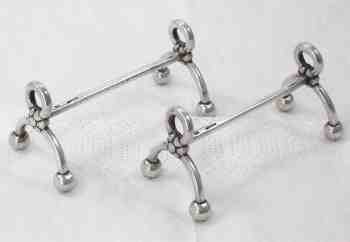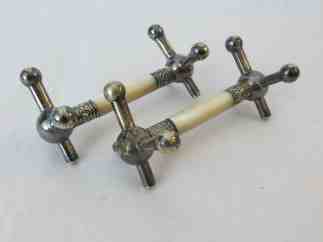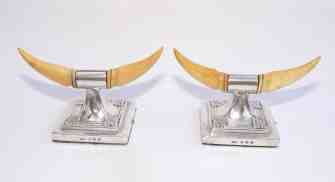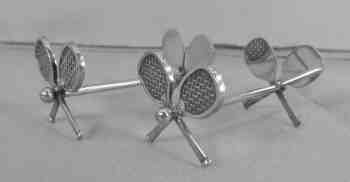 www.silvercollection.it
This is a page of 'The What is? Silver Dictionary' of A Small Collection of Antique Silver and Objects of vertu, a 1500 pages richly illustrated website offering all you need to know about antique silver, sterling silver, silverplate, Sheffield plate, electroplate silver, silverware, flatware, tea services and tea complements, marks and hallmarks, articles, books, auction catalogs, famous silversmiths (Tiffany, Gorham, Jensen, Elkington), history, oddities ...
HOME - SITE MAP - SILVER DICTIONARY - COOKIES CONSENT AND PRIVACY