LUCKENBOOTH

A Luckenbooth brooch is a Scottish heart-shaped brooch.
Luckenbooth is traditionally given to a bride by her groom on her wedding day as a symbol of love (heart) and loyalty (crown).
They were also attached to either the bedclothes or the clothing of a newborn child as it was believed to ease child birth and insure good breast milk.
These brooches often have a crown above one heart, or two intertwined hearts with Scottish motifs like the St. Andrew's Cross or the thistle.
The crown is designed after that of Mary Queen of Scots. She gave a Luckenbooth brooch to her betroth decorated with her monogram and a thistle. The thistle is the national emblem of Scotland along with the Latin motto, Nemo me impune Laecessit ("No one provokes me with impunity").
Silver was the usual material, although gold heart brooches were made for wealthy people.
Some brooches were engraved with initials, dates or mottoes. Inexpensive glass paste "gems" or stones (described in ancient advertisements as Cairngorm stones) were sometimes used on silver brooches.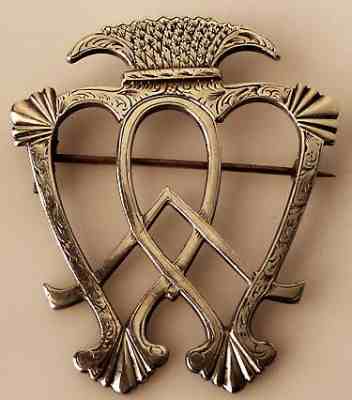 Its name is believed to have come from the "Locked Booths" where these brooches were sold on The Royal Mile in Edinburgh. Locked booths were shops in Edinburgh from St Giles to Canon gate which became the city's first Jewellery shops in the 16th century (luckenbooth was a Scots word for a lockable stall or workshop). They were demolished in 1817.
By the mid 18th century luckenbooth tokens also featured heavily as trade silver items to the indigenous peoples of North America, particularly the Six Nations and Iroquois Indians. As a result, Iroquois created their own "Iroquois brooch" and luckenbooth became a common decorative symbol in 18th and early 19th century native clothing.
Since late 19th century, Highland Dress Ornaments and Celtic Jewellery in gold and silver enjoy great popularity and are much sought by tourists visiting Scotland. Bracelets, Ear-rings, Scarf Pins, Lockets and, obviously, Luckenbooth brooches inspired to ancient patterns are among the favorite items.
In the 1870s, Inverness silversmith Peter George Wilson (1843-1915) was appointed Court Goldsmith and Jeweller, supplying Highland and Scotch ornaments, in silver and Sutherland gold, to Queen Victoria, the Prince and the Princess of Wales and to other members of the Royal Family.
Highland Jewellery often does not bear the hallmarks of the Silver Assay Office. As well as most of the ancient Scottish Provincial Silver, the objects are marked only with the manufacturer's marks (in the case of P.G.Wilson: P.G.W and INS, for Inverness).
A similar heart shaped token (but in the form of a spice box instead of a brooch) is the Hovedvandsæg, used in Denmark and Norway ( click here for details)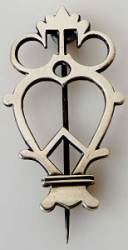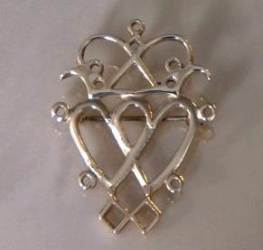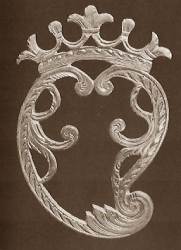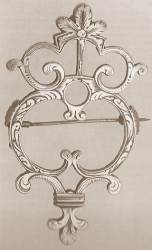 www.silvercollection.it
This is a page of 'The What is? Silver Dictionary' of A Small Collection of Antique Silver and Objects of vertu, a 1500 pages richly illustrated website offering all you need to know about antique silver, sterling silver, silverplate, Sheffield plate, electroplate silver, silverware, flatware, tea services and tea complements, marks and hallmarks, articles, books, auction catalogs, famous silversmiths (Tiffany, Gorham, Jensen, Elkington), history, oddities ...
HOME - SITE MAP - SILVER DICTIONARY - COOKIES CONSENT AND PRIVACY