MINIATURE SILVERWARE
DOLL'S HOUSE MINIATURE

Miniature silverware is a tiny versions of objects that, in full size, have an ornamental or functional use.

Miniature copies of everyday wares were made from the late 17th century onwards. A wide range was covered and included such diverse objects as candlesticks, tankards, kettles, teapots, coffee pots, dishes and trays.
They were copied carefully from full-size examples of the period.

Only few of these objects bear marks enabling them to be dated. Most pieces have only the maker's mark as they were so small as to have space for only a single stamp. Moreover, they were too light in weight to require hallmarking.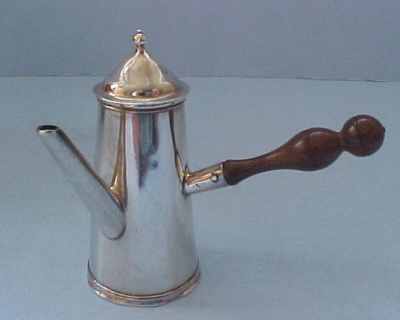 It's uncertain if these objects were made for display in a doll's house or as playthings for young girls.

Possibly some of these objects were made by apprentice silversmiths to demonstrate their skills, but those bearing a stamp are marked by established silversmiths, confirming the presence of specialists in making miniature ware.

The most noted English makers of such ware are George Manjoy and John Hugh Le Sage.

In the 19th century thousands of silver miniatures were imported from Holland and Germany (town of Hanau). They bear, besides English import marks, the marks of the country of origin or "fantasy" marks.

Many of them were reproduction of china cabinets, chairs, tables, parlour settees and other furniture in 18th century style.

www.silvercollection.it
This is a page of 'The What is? Silver Dictionary' of A Small Collection of Antique Silver and Objects of vertu, a 1500 pages richly illustrated website offering all you need to know about antique silver, sterling silver, silverplate, Sheffield plate, electroplate silver, silverware, flatware, tea services and tea complements, marks and hallmarks, articles, books, auction catalogs, famous silversmiths (Tiffany, Gorham, Jensen, Elkington), history, oddities ...
HOME - SITE MAP - SILVER DICTIONARY - COOKIES CONSENT AND PRIVACY