MOUSTACHE CUP
MUSTACHE CUP

Mustaches flourished all throughout the Victorian years. Great gobs of wax were melted and then applied to the mustache to keep the curls intact. And therein lay a problem that cropped up when steaming hot cups of coffee or tea were carried up to the mouth for sipping.The steam melted the wax and sent it right into the cup. Another problem soon became apparent. Sipping hot tea or coffee, moustaches often became stained.
Finally, Harvey Adams, an innovative Englishman, in 1830 made an unusual invention, "the mustache cup". The mustache cup had a ledge, called a mustache guard, across the cup. The guard had one semicircular opening against the side of the cup. The pampered mustache rested safe and dry on the mustache guard sipping hot beverage through the opening.
The new invention spread all over the Europe and soon every famous potter was making the new cups. A multiplicity of mustache cups was made by famous manufactories as Meissen, Royal Crown Derby, Imari, Royal Bayreuth, Limoges and others. Each potter created his own version of this masculine tableware and the news soon spread to America.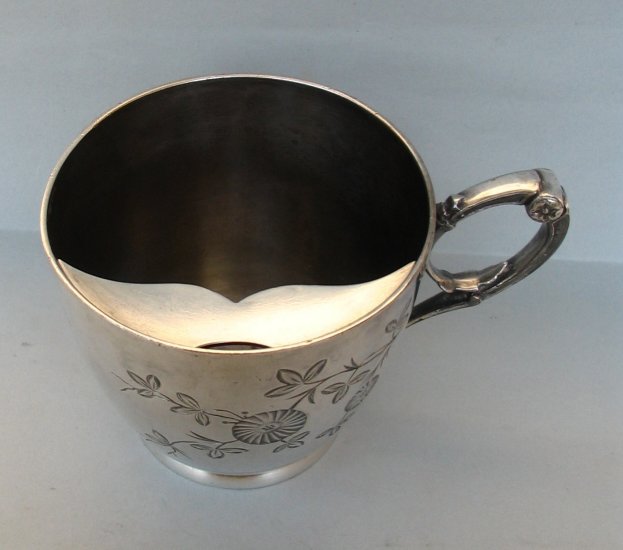 Although many mustache cups were made in America, the earliest ones were marked with names that led one to believe they were manufactured in England. This was due to the popularity of English-made ceramics.
Therefore, with the exception of the quadruple silver mustache cups made in the U.S., it is extremely difficult to find a true Victorian mustache cup bearing an American pottery mark.
Around 1920-1930 mustaches were no longer in vogue and mustache cup production trickled down along with the disappearing facial adornments. Today these examples of Victorian elegance are coveted and collected by a growing number of enthusiasts
This is an authentic silverplate (quadruple plate) moustache cup (mustache cup) made by Simpson, Hall, Miller & Co. (Willingford, Connecticut) at the end of 19th century.
The cup is decorated on the body with flowers of "Japonism" taste and monogrammed GTW.
The cup is 3 1/2 in. high (cm. 8,5)
A later addition was the "mustache spoon", invented in the latter half of the 1800s to allow the man to consume liquids without spillage onto either the mustache or clothing.


www.silvercollection.it
This is a page of 'The What is? Silver Dictionary' of A Small Collection of Antique Silver and Objects of vertu, a 1500 pages richly illustrated website offering all you need to know about antique silver, sterling silver, silverplate, Sheffield plate, electroplate silver, silverware, flatware, tea services and tea complements, marks and hallmarks, articles, books, auction catalogs, famous silversmiths (Tiffany, Gorham, Jensen, Elkington), history, oddities ...
HOME - SITE MAP - SILVER DICTIONARY - COOKIES CONSENT AND PRIVACY