MUSTARD POT

Mustard acquired its name from the French (moutarde) which in turn came from the Latin word for infermented wine: mustum.
The latter was mixed with the powdered seed of the plant when it was used as a sesoning but in England, the powder is more usually combined with water.
Originally the mustard was used on the table in its dry state. It was put into containers which resembled casters but with the unpierced cover.
The change from the dry to wet mustard took place in the middle years of the 18th century.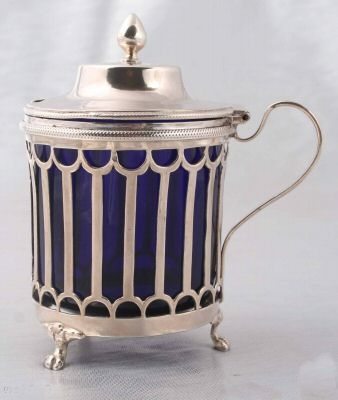 The earliest silver mustard-pots are dated 1724 and bear the marks of Jacob Margas and of Paul de Lamerie.
Once they had settled into general favour, the silversmiths introduced a variety of shapes and decoration and barrel-shaped, boat-shaped, oval, rectangular or octagonal mustard-pots were produced.

A common decoration is the pierced body with a glass liner (usually blue) to prevent corrosion

They have curled handle and hinged (domed) lid with a thumbpiece and an indentation for the stem of the mustard spoon.

The spoon has a slightly curved stem and an elongated deep bowl.


www.silvercollection.it
This is a page of 'The What is? Silver Dictionary' of A Small Collection of Antique Silver and Objects of vertu, a 1500 pages richly illustrated website offering all you need to know about antique silver, sterling silver, silverplate, Sheffield plate, electroplate silver, silverware, flatware, tea services and tea complements, marks and hallmarks, articles, books, auction catalogs, famous silversmiths (Tiffany, Gorham, Jensen, Elkington), history, oddities ...
HOME - SITE MAP - SILVER DICTIONARY - COOKIES CONSENT AND PRIVACY