NIPPLE SHIELD

The nipple-shield is a small protective object to be placed over a nursing woman's nipple during infant feeding.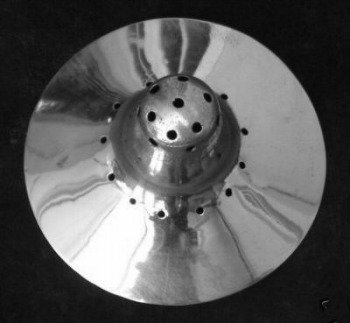 The nipple shield (or nipple guard) is a circular, slightly convex, disc having either a central hole that encircles the nipple or a conical protuberance that fits over the nipple, having a varying number of small pierced holes. Examples of silver nipple shield are numerous from the first decade of the 18th century.
The diameter of the disc ranges from 4-5 to 6-7 cm.
This is a nipple shield dated London 1804.
Another Georgian nipple shield dated London 1797



I believed that the production of these silver objects was ended in the 19th century. Surprisingly I found that silver nipple shields continue to be manufactured and are sold online. This is an example of sterling silver medical device nursing cup currently manufactured by an Italian silversmith (hallmark 252PD).

www.silvercollection.it
This is a page of 'The What is? Silver Dictionary' of A Small Collection of Antique Silver and Objects of vertu, a 1500 pages richly illustrated website offering all you need to know about antique silver, sterling silver, silverplate, Sheffield plate, electroplate silver, silverware, flatware, tea services and tea complements, marks and hallmarks, articles, books, auction catalogs, famous silversmiths (Tiffany, Gorham, Jensen, Elkington), history, oddities ...
HOME - SITE MAP - SILVER DICTIONARY - COOKIES CONSENT AND PRIVACY