OIL LAMP
LUCERNA

After several centuries in which oil lamps (lucerna) have fallen into disuse, they became popular again around the mid 18th century in the form of a silver lamp with a reservoir, applied to a long rod, and supported by a large base (usually wood weighed). This new production of silver oil lamps (silver lucerna) was restricted to Italy, with many being produced in Rome and Papal State, and more limited quantity being produced in Naples, Milan, Genoa, Venice and Florence. Some examples have Maltese hallmarks, mostly destined for customers in Naples and other cities in Southern Italy.





At the beginning of the 19th century, the neo-classical taste resulted in the production of figural oil lamps in which the reservoirs are supported by human figures (mostly in Egyptians clothing), Greek or Roman Divinities (especially Mercury) and, sometimes, animals.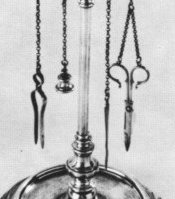 Most lamps were provided with a shade and were equiped with snuffers, tweezers and estinguishers hanging from chains applied to the rod. A pecualiarity of some lamps made in Genoa is the glass reservoir. Production of silver oil lamps ceased in the late19th century when more efficient sources of illumination became available, even if a limited production survived in the 20th century exclusively for decorative purposes. The photos that follow depict some examples of silver oil lamps.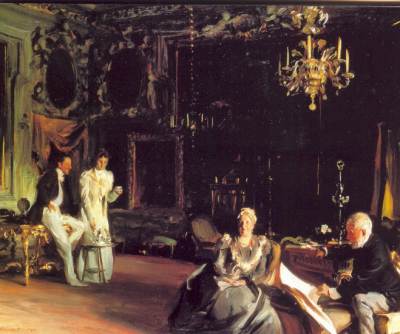 John Singer Sargent: Venetian interior with oil lamp - 1898
---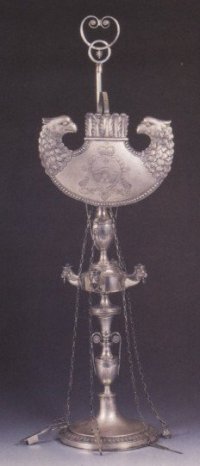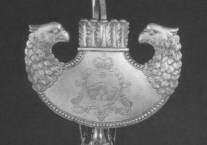 Rome 1807/1837, silversmith Vincenzo Bugarini. Four wicks spouts in shape of animal heads. The shade is decorated with the Chigi coat of arms.
---
Rome, around 1780, silversmith Vincenzo Belli. Shade decorated with two butterflies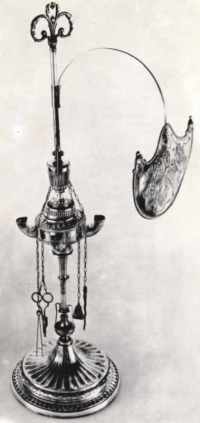 ---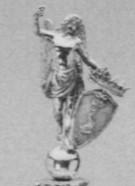 Rome, around 1835, decorated with a figural finial depicting an angel with a shield
---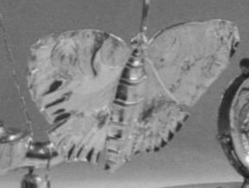 Rome, around 1820, silversmith Filippo Pacetti. The lamp has parts from other makers, the handle is by Vincenzo Bugarini, the butterfly-form shade has a maker's mark not clear, the tweezers are by G.L. Valadier, the snuffer and estinguisher are of later date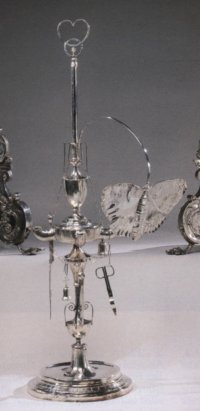 ---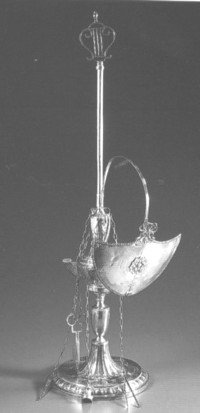 Rome, around 1820, silversmith Vincenzo Parenti, snuffer and shade of other silversmiths
---
Genoa, hallmark 1752. The lamp has a crystal reservoir. The use of crystal for oil reservoir is a typical of Genoan lamps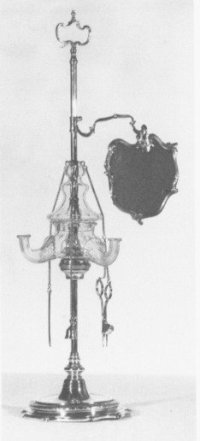 ---
Rome, 1825, silversmith Girolamo Menazzi. Stem is a column supporting reservoir with four wicks spouts in the form of human heads. The lamp has chains for its maintenance accessories

---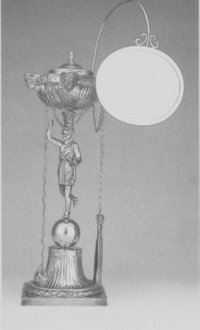 Rome, 1830. reservoir with one spout held by a figure over a globe
---
Rome, 1814, silversmith Antonio Mattei. Mercury was the favourite among Divinities and was frequently used for figural oil lamps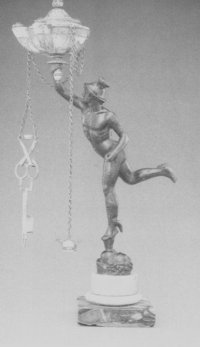 ---
Rome, 1820, silversmith Roberto Tombesi. The female figure holding reservoir is in bronze. The shade was fitted with parchment paper (now missing)

---

Rome, 1805, silversmith Antonio de Caporali. Silver, bronze and polychrome marbles. A typical example of "retour d'Egypt" style which spread after Napoleon's campaign in Egypt

---

Rome, 1810, silver and bronze. Another example of "retour d'Egypte style"

---

Perugia, 1830, silversmith P.P. Rancini. A winged Cupid supports a one-spout reservoir and the shade in the form of a butterfly


www.silvercollection.it
This is a page of 'The What is? Silver Dictionary' of A Small Collection of Antique Silver and Objects of vertu, a 1500 pages richly illustrated website offering all you need to know about antique silver, sterling silver, silverplate, Sheffield plate, electroplate silver, silverware, flatware, tea services and tea complements, marks and hallmarks, articles, books, auction catalogs, famous silversmiths (Tiffany, Gorham, Jensen, Elkington), history, oddities ...
HOME - SITE MAP - SILVER DICTIONARY - COOKIES CONSENT AND PRIVACY