OLD ENGLISH SPOON

The "Old English" is one of the major flatware patterns used in British silver.
In this pattern the stem of the handle widens gradually towards the curved-end terminal and then turns downward.
It was popular from c. 1760 to c. 1820, but examples can be found in earlier dates in serving pieces.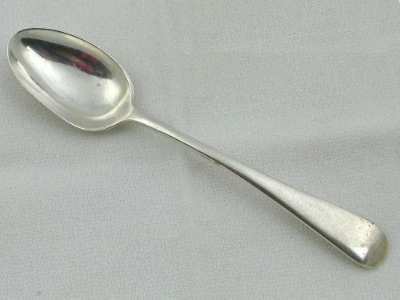 The Plain or Basic Old English pattern was embellished in the 1770s with the Feather Edge and in the 1780s with Bright Cut and Thread.
The pattern had many variants classified as:
Pointed, With Shoulders, Admiralty, Bead, Bright-Cut Edge, Feather Edge (with or without Shoulders or Cartouche), Shell, Thread, Laurel, Thread and Shell, Coffin End, etc.



www.silvercollection.it
This is a page of 'The What is? Silver Dictionary' of A Small Collection of Antique Silver and Objects of vertu, a 1500 pages richly illustrated website offering all you need to know about antique silver, sterling silver, silverplate, Sheffield plate, electroplate silver, silverware, flatware, tea services and tea complements, marks and hallmarks, articles, books, auction catalogs, famous silversmiths (Tiffany, Gorham, Jensen, Elkington), history, oddities ...
HOME - SITE MAP - SILVER DICTIONARY - COOKIES CONSENT AND PRIVACY