PODSTAKANNIK
TEA GLASS HOLDER

The Russian silversmiths created pieces which were found no place else on the world. The Russians, unlike others Europeans who drink their tea from handled cups, use to drink tea from a glass.
Obviously this creates a heat problem. The podstakannik or tea glass holder is a vessel used to hold the glass avoiding the hot tea to scald the hand. It is a cylindrical container with a handle on the side properly shaped to hold the tea glass.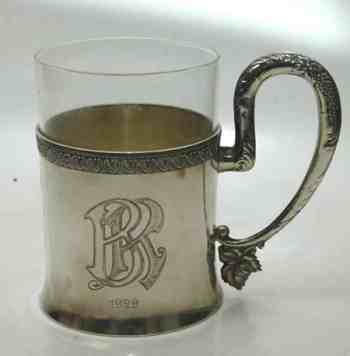 By the end of the 19th century silver Podstakannik were widely used by upper class Russians to show their prosperity by using silver drinking vessels in everyday life: Podstakannik was one of these vessels.
The podstakannik followed the trend of styles in use at the end of the 19th century and Art Nouveau and Old Russian podstakannik were widely produced. The demand of silver items faded with the onset of the Russian Revolution.
In Soviet Union the podstakannik were made mostly from nickel silver, cupronickel, and other alloys with nickel, silver, gold plating, decorated with famous people, historic scenes and cities of USSR, etc.
At the end of the 20th century a wide production of silver and enamel pieces was resumed, mostly for decorative purposes.

www.silvercollection.it
This is a page of 'The What is? Silver Dictionary' of A Small Collection of Antique Silver and Objects of vertu, a 1500 pages richly illustrated website offering all you need to know about antique silver, sterling silver, silverplate, Sheffield plate, electroplate silver, silverware, flatware, tea services and tea complements, marks and hallmarks, articles, books, auction catalogs, famous silversmiths (Tiffany, Gorham, Jensen, Elkington), history, oddities ...
HOME - SITE MAP - SILVER DICTIONARY - COOKIES CONSENT AND PRIVACY