QUAICH

Quaich (cuaich in Gaelic) meaning "cup", are a uniquely Scottish invention. Having no apparent connection to any other European drinking vessel they have maintained their distinctive shape as a wide and shallow cup for more than four hundred years. There are some scholars who believe the shape evolved from the use of scallop shells.
Those of small size were for individual use, larger ones were to be passed around on ceremonial occasions in the same way as a "loving cup" or a "mether cup".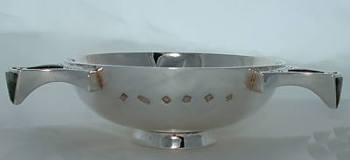 It has two (rarely three or four) flat horizontal handles (named "lugs" in Scotland) extending level from the rim of the bowl.
Early examples were made of wood, bone or horn (sometimes with silver mounts), while later examples were made entirely of silver.
The centre of the bowl was usually decorated with a silver coin or an engraved disc or 'print', with coat-of-arms, initials, motto or familiar phrase such as a toast.
The disc served the function of masking and sealing the centre of the bowl where the points of the staves met.
The width of ancient examples ranges from 9.5 to 25 cm while modern examples are made in many sizes.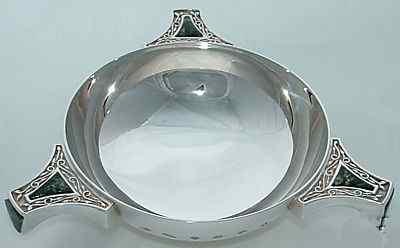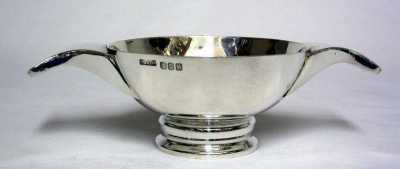 www.silvercollection.it
This is a page of 'The What is? Silver Dictionary' of A Small Collection of Antique Silver and Objects of vertu, a 1500 pages richly illustrated website offering all you need to know about antique silver, sterling silver, silverplate, Sheffield plate, electroplate silver, silverware, flatware, tea services and tea complements, marks and hallmarks, articles, books, auction catalogs, famous silversmiths (Tiffany, Gorham, Jensen, Elkington), history, oddities ...
HOME - SITE MAP - SILVER DICTIONARY - COOKIES CONSENT AND PRIVACY