SNUFF MULL

The practice of inhaling powdered tobacco became common in Europe in the 17th century and universally among both sexes throughout the 18th.
It continued in the 19th century and have still many adherents.

The result is a plethora of snuff boxes to suit pockets of all depths available for modern collectors.

The more common snuff box used to hold pulverized tobacco consists of a small container with a hinged metal lid.

Snuff boxes were made of a great variety of materials as silver or plated ware, porcelain, wood, tortoise-shell, shell, horn, etc.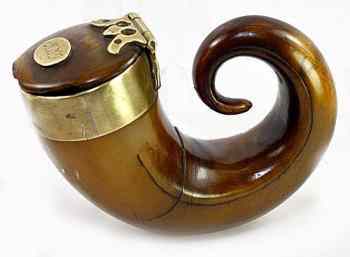 The snuff mull is variety particularly appreciated by collectors of Scottish folk art.

From a Scottish dialect word for "mill", where the snuff would have been ground to a powder, mulls came in a variety of shapes, the most common being fashioned from a ram's horn.

Usually it was mounted in silver and often embellished with Cairngorms - a semi-precious stone which takes its name from its source.

www.silvercollection.it
This is a page of 'The What is? Silver Dictionary' of A Small Collection of Antique Silver and Objects of vertu, a 1500 pages richly illustrated website offering all you need to know about antique silver, sterling silver, silverplate, Sheffield plate, electroplate silver, silverware, flatware, tea services and tea complements, marks and hallmarks, articles, books, auction catalogs, famous silversmiths (Tiffany, Gorham, Jensen, Elkington), history, oddities ...
HOME - SITE MAP - SILVER DICTIONARY - COOKIES CONSENT AND PRIVACY