SPOON WARMER

Spoon warmer is a dinner-table utensil for keeping warm the bowl of stuffing spoon or a serving spoon. It has the form of a hollow receptacle with a shaped opening . The bowl of the spoon was inserted through the opening into hot water in the receptacle.

At a time when the kitchens were generally set far from dining rooms, it was of great importance that food be kept warm while being brought to the rarely heated dining rooms.

Apart from the large variety of dishes that had hot water compartments so the enchanting spoon warmers were invented.

Filled also with hot water in the kitchen, they were brought to the table along with the serving spoon(s) which were stored in them until being used and so kept warm.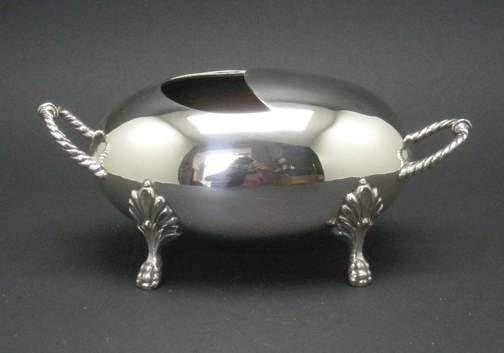 These vessels have always something in common in their construction, namely the fact that they stand on feet. Because of this we can assume that they were filled with hot water. The feet would prevent damage to the precious table surface

Spoon warmers were never part of a mass production and so they rarely appear today. They are absolutely collectable and highly sought after.

I think they were probably not produced in Sterling Silver and most (if not all) spoon warmers were manufactured in the process of Electro Plating.

They appear in various shapes and themes like various shells sitting on rocks, oval egg-shaped forms placed on feet sometimes with side or top handles, small boats or redesigned sauceboats.

(text and images published under kind permission of Christian M. Baur/ASCAS).

www.silvercollection.it
This is a page of 'The What is? Silver Dictionary' of A Small Collection of Antique Silver and Objects of vertu, a 1500 pages richly illustrated website offering all you need to know about antique silver, sterling silver, silverplate, Sheffield plate, electroplate silver, silverware, flatware, tea services and tea complements, marks and hallmarks, articles, books, auction catalogs, famous silversmiths (Tiffany, Gorham, Jensen, Elkington), history, oddities ...
HOME - SITE MAP - SILVER DICTIONARY - COOKIES CONSENT AND PRIVACY