TEA CADDY
TEA CANISTER

The tea caddy or canister is a closed container used at a tea table as part of the tea service.
The earliest tea caddies belong to the early 18th century but the use of these objects spread rapidly.
The word caddy seem to derive from the Malay kati a weight equivalent to 1 1/5 lb, and as tea was sold by the kati the name became by transference that of the case in which it was bought.
Anyway it's doubtful whether the use of the word caddy in this sense dates before the end of the 18th century. Canister was certainly the name used previously and is found as early as 1711 in an advertisement of the London Gazette.
Early tea caddies were made in sets of two or three (for different sorts of tea) and kept in locked cases (tea-chests) made of wood covered with shagreen, tortoiseshell or mother-of-pearl and mounted with silver).
Sometimes these cases included also a sugar-basin.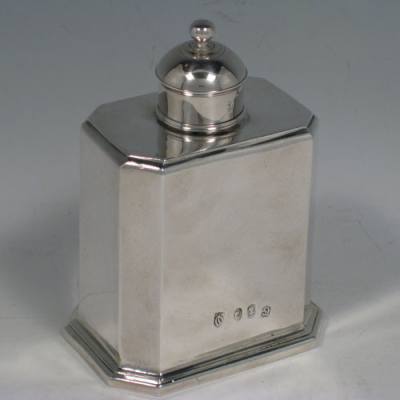 Early tea caddies were extremely simple in shape, being oval, oblong or long octagonal, having a flat top with a hole covered by a domed cap.
Most examples have a sliding top or bottom through which to fill the container.
From the middle of the 18th century the shape adopted curved sides decorated with rococo chinoiserie bulging towards the top, and a concave lid surmounted by a knob and fitted with a lock, being tea a costly luxury.
In the second quarter of the century appeared vase-shaped caddies made like casters (often in sets of one larger and two small), while during the Adam period the shape changed into a classical urn.
Later the caddy assumed a much larger oval or long octagonal shape, with straight sides and flat lid.
At the end of the 19th century many tea caddies in rococo style were imported in the UK from Germany and Holland.

www.silvercollection.it
This is a page of 'The What is? Silver Dictionary' of A Small Collection of Antique Silver and Objects of vertu, a 1500 pages richly illustrated website offering all you need to know about antique silver, sterling silver, silverplate, Sheffield plate, electroplate silver, silverware, flatware, tea services and tea complements, marks and hallmarks, articles, books, auction catalogs, famous silversmiths (Tiffany, Gorham, Jensen, Elkington), history, oddities ...
HOME - SITE MAP - SILVER DICTIONARY - COOKIES CONSENT AND PRIVACY