TEA KETTLE
TEAPOT WITH STAND

Owing to the high cost of tea during most of the 18th century the teapot was of noticeably small size requiring frequent re-filling. The tea kettle was used to contain hot water to replenish the teapot when brewing tea.

Usually it has a pear-shaped, spherical, bullet-shaped or melon-shaped form with a stand containing a heater. Sometimes it is accompanied by a tray to prevent heat and drips reaching the table.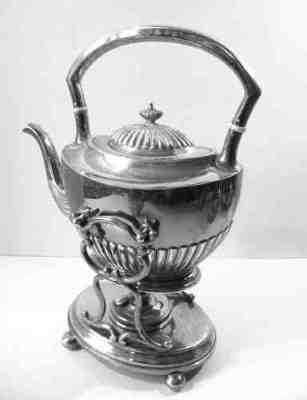 The tea kettle is a larger and squatter edition of the contemporary teapots. The earliest reference to a tea kettle is of the year 1687 and the earliest known example is one of 1694 in the Norwich Castle Museum.

The tea kettle felt into disfavour in about 1760, being succeeded by the tea urn, fitted with a tap at the bottom of the body and standing on a base, sometimes fitted with a swing handle to make easier pouring of water without having to lift up the vessel (tea kettle with stand).

The teapot with stand rests on a base usually having a heating device as a spirit lamp. It has a flat bottom and the stand has three or four feet joined at the bottom by arms that connect with a central ring in which the burner rests. The top of the stand is encircled by a grooved ring to support the teapot. Sometimes the stand is merely to support the teapot without any heating device.
It is similar in shape to the tea kettle with stand.

www.silvercollection.it
This is a page of 'The What is? Silver Dictionary' of A Small Collection of Antique Silver and Objects of vertu, a 1500 pages richly illustrated website offering all you need to know about antique silver, sterling silver, silverplate, Sheffield plate, electroplate silver, silverware, flatware, tea services and tea complements, marks and hallmarks, articles, books, auction catalogs, famous silversmiths (Tiffany, Gorham, Jensen, Elkington), history, oddities ...
HOME - SITE MAP - SILVER DICTIONARY - COOKIES CONSENT AND PRIVACY