TOAST RACK
TOAST TRAY

Toast rack or toast tray is a serving piece having vertical openwork partitions and a vertical ring for carrying several slices of toast (usually four to eight).

The slices stand upright in each space, sometimes with a flat bottomed tray to support them.

Early examples were in the form of a single row of vertical posts on a wire-ring base but later ones have circular wire loops to separate the slices.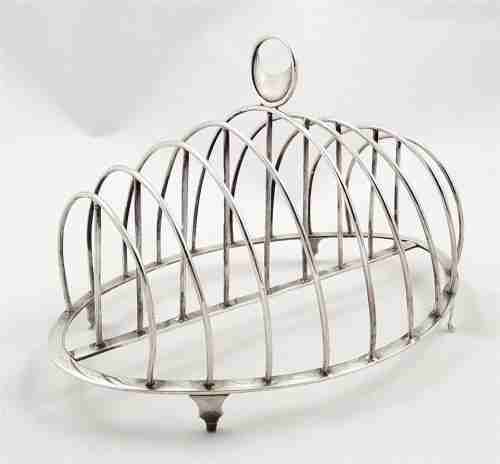 Folding toast racks to occupy less storage space were patented by Roberts Cadman & Co (1807), A. Goodman & Co (1808) and others Old Sheffield Plate manufacturers.

Very popular were also combined frames of toast racks with pepper, salt and egg cups.

In the late 19th century/early 20th century the "novelty" fashion introduced toast racks using dividers in the shape of wishbones, hearts, crossed riding whips, etc.

www.silvercollection.it
This is a page of 'The What is? Silver Dictionary' of A Small Collection of Antique Silver and Objects of vertu, a 1500 pages richly illustrated website offering all you need to know about antique silver, sterling silver, silverplate, Sheffield plate, electroplate silver, silverware, flatware, tea services and tea complements, marks and hallmarks, articles, books, auction catalogs, famous silversmiths (Tiffany, Gorham, Jensen, Elkington), history, oddities ...
HOME - SITE MAP - SILVER DICTIONARY - COOKIES CONSENT AND PRIVACY