WALL SCONCES

This is a type of sconce to be hung on a wall, having a back-plate to reflect the light of one or more candles.
Silver wall sconces, previously unknown in England, became familiar to British during the exile of Charles II in the Low Countries.
They became very popular and fashionable but a scarce number have survived from the late 17th and 18th century.
Toy-sconces in miniature were also common equipment on Dutch and English dollhouses.
The introduction of modern lighting systems stopped the production of wall sconces, although a certain production continues and most examples actually available to meet the needs of old style interior decoration date to the late 19th/early 20th century.




The most characteristic design for reflector plates were cast or embossed with flowers, foliage, scrolls, swags. and putti and sometimes bearing the arms or monogram of the owner.

Three principal types of wall sconces are known:
- one made in 1665 with a single socket attached to the oblong back plate with a rounded top;
- one, less common, has an enriched truss in place of a back plate and a scroll branch with a socket;
- another, the most common pattern, consists of an embossed back plate with either one or two branches with sockets.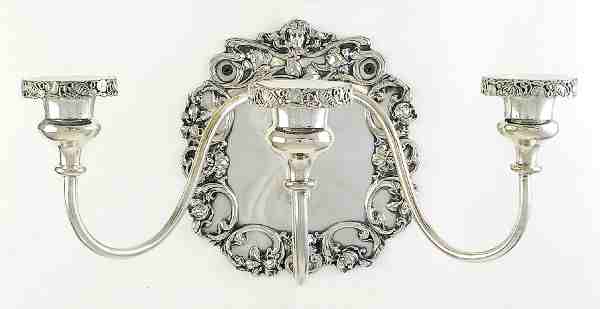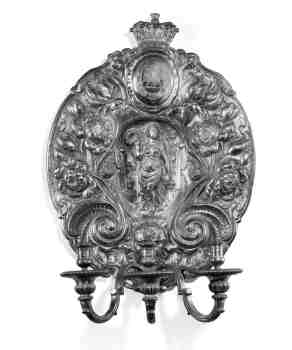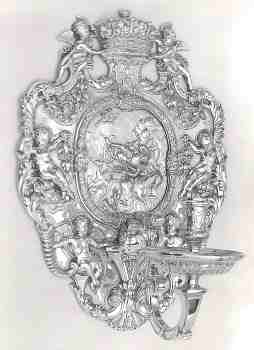 www.silvercollection.it
This is a page of 'The What is? Silver Dictionary' of A Small Collection of Antique Silver and Objects of vertu, a 1500 pages richly illustrated website offering all you need to know about antique silver, sterling silver, silverplate, Sheffield plate, electroplate silver, silverware, flatware, tea services and tea complements, marks and hallmarks, articles, books, auction catalogs, famous silversmiths (Tiffany, Gorham, Jensen, Elkington), history, oddities ...
HOME - SITE MAP - SILVER DICTIONARY - COOKIES CONSENT AND PRIVACY