WHISKY NOGGIN
WHISKEY JUG
CHOTA PEG

This is a drinking vessel of glass crystal with curved handle and silver collar with thumb rest for opening the lid.

It has conical shape and, in most cases, a cut glass star on the base.

Often it is accompanied by a silver tot label and chain.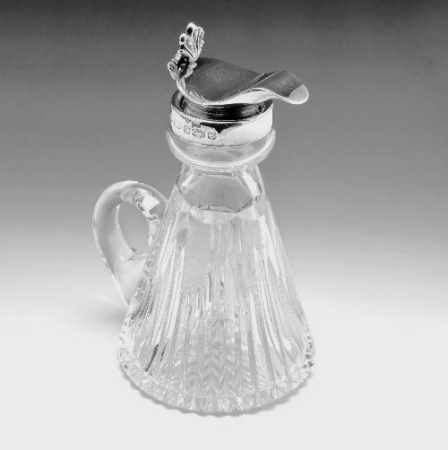 Traditionally is considered of Scottish origin and "go to bed" is its usual definition.
The vessel is known also with the Anglo-Indian term of "Chota peg".

The noggin is used for serving individual portions of whisky and is equivalent to a "gill" (a unit of measurement for volume equal to a quarter of a pint no longer in common use, except in regard to the volume of alcoholic spirits measures).

www.silvercollection.it
This is a page of 'The What is? Silver Dictionary' of A Small Collection of Antique Silver and Objects of vertu, a 1500 pages richly illustrated website offering all you need to know about antique silver, sterling silver, silverplate, Sheffield plate, electroplate silver, silverware, flatware, tea services and tea complements, marks and hallmarks, articles, books, auction catalogs, famous silversmiths (Tiffany, Gorham, Jensen, Elkington), history, oddities ...
HOME - SITE MAP - SILVER DICTIONARY - COOKIES CONSENT AND PRIVACY