HALLMARKS OF AUSTRIAN SILVER
MARKS AND HALLMARKS OF AUSTRIA AND AUSTRIA-HUNGARY
- 1781 - 1921 -
This is a page of A Small Collection of Antique Silver and Objects of vertu, a 1000 pages richly illustrated website offering all you need to know about antique silver, sterling silver, silverplate, sheffield plate, electroplate silver, silverware, flatware, tea services and tea complements, marks and hallmarks, silver marking system and silver hallmarks guide, articles, books, auction catalogs, famous silversmiths (Tiffany, Gorham, Jensen, Elkington, WMF, Reed & Barton, Mappin & Webb, Bateman Family), history, oddities ...
SITE MAP - HOME PAGE
Ottoman expansion shifted the Hungarian kingdom under the rule of the Habsburg emperors and after the conclusion of the Great Turkish War the whole of Hungary became part of the Habsburg Monarchy. Following the nationalist uprisings of 1848, the Austro-Hungarian Compromise of 1867 elevated Hungary's status by the creation of a joint monarchy with the Austrian Empire, ruled in personal union as Austria-Hungary by the Austrian emperors during 1867-1918.
Until 1867 the fineness of Austrian silver was indicated in "loth" (12 loth corresponding to 750/1000, 13 loth = 812/1000, 14 loth = 875/1000, 15 loth = 937/1000). An alphabetic symbol (in some cases accompanied by a number) identified the town control office.
From 1867 the silver fineness was indicated by a number beside "Diana head": 1=950/1000 - 2=900/1000 - 3=800/1000 -4=750/1000
In 1872 the alphanumeric code identifying the town was reinstated inside the "Diana" mark.
In 1806 Emperor of Austria issued a manifesto providing for taxation and duties on gold and silver. A new mark (Repunzierung) was introduced as acknowledgement of receipt of paid taxes.
The Assay Office code were: A Vienna, B Prague, C Salzburg, D Lemberg, E Cracow, F Brunn, G Linz, H Graz, I Klagenfurt, K Leibach, L Trieste.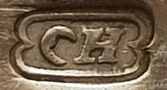 The obligatory re-marking of old articles was abolished on August 1, 1807. Only new objects had to be marked with a hallmark and a re-mark (Repunze). Objects missing of the re-mark were confiscated.
On December 19, 1809, the patent for the delivery of silver was issued by the respective authorities in order to fight the indebtedness of the state resulting from the war against France. Except small objects like spoons (table cutlery), watch cases, etc. all silverware had to be delivered to the recent installed redemption offices. Only if the metal could be paid for by the owner in conventional money or silver it wasn't subject to this regulation. In such cases the object was marked with the monogram "FR". As only few large gold and silver smiths could afford to pay such a tax, a large number of silver objects of historic and high artistic value were melted down.
The mark "TF" was used for ecclesiastical silver not subject to delivery to the authority (taxfreistempel).




LISTING OF VIENNA SILVERSMITHS
AUSTRIAN SILVER MARKS
Vienna 1853: silversmith Stephan Mayerhofer & Carl Klinkosch
ref: Neuwirth/Wiener Gold-und Silberschmiede und ihre Punzen 1822-1850 vol. II page 212

Vienna, 1864: silversmith Josef Gedlitzka
ref: Neuwirth/Wiener Gold-und Silberschmiede und ihre Punzen 1850-1866 vol. III page 138

Vienna 1848: Meister Schifere
ref: Rosenberg/Der Goldschmiede Merkzeichen IV No.7861

Vienna, c. 1905: Silberwarenfabrik Alexander Sturm
ref: Divis/Markenzeichen auf Silber, page 125,
Neuwirth/Wiener Gold-und Silberschmiede 1867-1922 vol. II page 239
Hermann Ratzersdorfer: active Vienna, 1843-1881. Hermann Ratzersdorfer was born in 1817 and raised in Pressburg, Austria (Bratislava now, the capital of Slovakia). His father Salomon was a dealer in true antiquities and Hermann moved at the beginning of the forties to Vienna. Soon found it more lucrative to imitate rare pieces, instead of searching out and carefully picking originals, and he established such a factory, the first of its kind in Austria. On December 14, 1843 he started his business and registered his own maker's mark certifying his recognition as a master silversmith.Two years later he showed his workmanship at the Viennese Trade Exhibition,1845. He exhibited also at the London Exhibition of 1851, the Paris Exhibition of 1855 (where he won a 2nd class medal), the London Exhibition of 1871 and the 1873 Exhibition in Vienna
He retired in 1881, having turned his business over to his son Julius
(for these information I'm in debt with the wide article about Hermann Ratzersdorfer written by Jayne W. Dye and Karin Sixl-Daniell for ASCAS web site)

Oscar Julius Dietrich (1853-1940): active in Vienna, 1881-1924
Partecipated in the Exhibition in Paris in 1900 and 1925. Executed designs by Franz Delavilla, Emanuel Josef Margold, Dagobert Peche and the architects Hans Bolek and A.O. Holub. The workshop closed in 1931

Vincenz Carl Dub: active Vienna, 1886-1924 (b. 1852 - d. 1924)

Eduard Friedman: active Vienna, 1881-1919
Executed designs by Rudolf Karger, Milla Weltmann, and by the architects Hans Bolek, Philippe Hauser, Emanuel Josef Margold and Otto Prutscher.


Georg Adam Scheid: active Vienna from 1862
Silversmith and jeweller famous for high-quality enamelling. Executed designs by Koloman Moser


Wiener Werkstatte: active Vienna 1903 - 1932
Designers for Vienna Workshop were Carl Otto Czeschka, Josef Hoffmann, Koloman Moser, Dagobert Peche, Otto Prutscher and Eduard Josef Wimmer-Wisgrill. Silversmiths with a maker's monogram were Josef Berger, Adolf Erbrich, Augustin Grotzbach, Josef Hossfeld, Josef Husnik, Josef Czech, Karl Kallert, Alfred Mayer, Anton Pribit, Eugen Pflaumer, Karl Ponocny, J. Sedlicky and Josef Wagner.

This is a page of A Small Collection of Antique Silver and Objects of vertu, a 1000 pages richly illustrated website offering all you need to know about antique silver, sterling silver, silverplate, sheffield plate, electroplate silver, silverware, flatware, tea services and tea complements, marks and hallmarks, articles, books, auction catalogs, famous silversmiths (Tiffany, Gorham, Jensen, Elkington, WMF, Reed & Barton, Mappin & Webb, Bateman Family), history, oddities ...
SITE MAP SILVER DICTIONARY