EUROPEAN COUNTRIES SILVER AND GOLD HALLMARKS
HUNGARY
A silver or gold object that is to be sold commercially is, in most countries, stamped with one or more hallmarks indicating the purity of the metal and the mark of the manufacturer or silversmith
The word "HALLMARK" derives from the fact that, since the 16th century, precious metals were sent to the London Goldsmiths' Hall for testing to ensure that the correct standard of silver had been used. The Goldsmiths' Hall was the headquarters of the Goldsmiths' Company and the home of the Assay Office.
In some countries, the testing of precious metal objects and marking of purity is controlled by a national assay office.
Depending on the national legislation the use of hallmarks may be compulsory, voluntary or provided by a manufacturer's declaration.
The present Hungarian hallmarking system is organized on a compulsory base.

Ottoman expansion shifted the Hungarian kingdom under the rule of the Habsburg emperors and after the conclusion of the Great Turkish War the whole of Hungary became part of the Habsburg Monarchy. Following the nationalist uprisings of 1848, the Austro-Hungarian Compromise of 1867 elevated Hungary's status by the creation of a joint monarchy with the Austrian Empire, ruled in personal union as Austria-Hungary by the Austrian emperors during 1867-1918.
After the First World War, the Central Powers enforced the dissolution of the Habsburg Monarchy and Hungary lost most of its territory. Afterwards a short-lived People's Republic was declared that was followed by a restored Kingdom of Hungary governed by the regent, Miklós Horthy, who officially represented the Hungarian monarchy of Charles IV. During all this period (1866-1937) Hungary used Austro-Hungarian silver hallmarks.
Between 1938 and 1941, Hungary recovered part of her lost territories. During World War II Hungary suffered German occupation (1944), followed by the Soviet occupation and the loss of the war. After World War II, the Second Hungarian Republic was established in Hungary's current-day borders, as a socialist People's Republic during 1949-1989 and as the Third Republic of Hungary under an amended version of the constitution of 1949 since October 1989, with a new constitution adopted in 2011. Hungary joined the European Union in 2004.
From 1937 five silver hallmarks change have been occurred, 1937, 1966, 1999, 2006 and the last in 2016.
SILVER HALLMARKS 1866-1937
AUSTRIA-HUNGARY 1866-1918 AND HUNGARY 1918-1937




Large works 1866-1937, town of Pest (P)
Other Hungarian town codes: P1 Eger - P5 Gyor - P6 Sopron - R4 Debrecen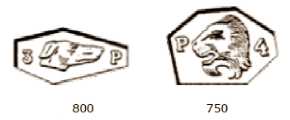 Small works 1866-1937, town of Pest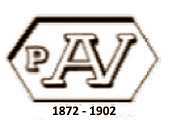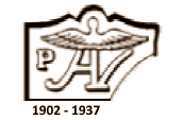 Import marks, 1868 - 1937
HUNGARY SILVER HALLMARKS 1937 - 1966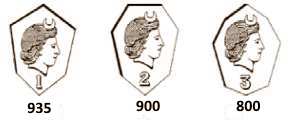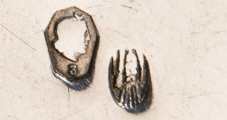 Large works 1937 - 1966


Small works 1937 - 1966

Import marks, 1937 - 1966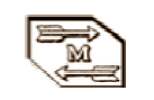 Other official marks, 1937 - 1966
HUNGARY SILVER HALLMARKS 1966 - 1999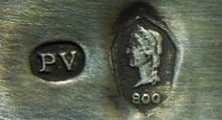 Large works 1966 - 1999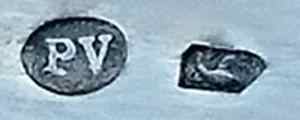 Small works 1966 - 1999

Import marks, 1966 - 1999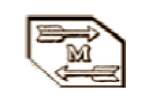 Other official marks, 1966 - 1999
HUNGARY SILVER HALLMARKS 1999 - 2006

Silver objects 1999 - 2006 A = date letter 1999 - 2006
HUNGARY SILVER HALLMARKS 2006 - 2016


Silver objects 2006 - 2016 B = date letter 2006 - 2016
HUNGARY SILVER HALLMARKS FROM 1.1.2016

Silver objects from 1.1.2016 C = date letter from 1.1.2016
HUNGARY OTHER PRECIOUS METALS HALLMARKS FROM 1.1.2016


Gold, Platinum and Palladium hallmarks from 1.1.2016 C = date letter from 1.1.2016

www.silvercollection.it
This is a page of 'The What is? Silver Dictionary' of A Small Collection of Antique Silver and Objects of vertu, a 1500 pages richly illustrated website offering all you need to know about antique silver, sterling silver, silverplate, Sheffield plate, electroplate silver, silverware, flatware, tea services and tea complements, marks and hallmarks, articles, books, auction catalogs, famous silversmiths (Tiffany, Gorham, Jensen, Elkington), history, oddities ...
HOME - SITE MAP - SILVER DICTIONARY - COOKIES CONSENT AND PRIVACY