EUROPEAN COUNTRIES SILVER AND GOLD HALLMARKS
NORWAY
A silver or gold object that is to be sold commercially is, in most countries, stamped with one or more hallmarks indicating the purity of the metal and the mark of the manufacturer or silversmith
The word "HALLMARK" derives from the fact that, since the 16th century, precious metals were sent to the London Goldsmiths' Hall for testing to ensure that the correct standard of silver had been used. The Goldsmiths' Hall was the headquarters of the Goldsmiths' Company and the home of the Assay Office.
In some countries, the testing of precious metal objects and marking of purity is controlled by a national assay office.
Depending on the national legislation the use of hallmarks may be compulsory, voluntary or provided by a manufacturer's declaration.
The Norwegian hallmarking system is organized on a voluntary base.
Norway was in union with Denmark from 1380. In 1814 Norway was ceded to Sweden. In 1905 the union with Sweden was dissolved and the Norwegian constitutional monarchy was reinstated,
The modern Norwegian system of hallmarking came into effect after the 1891 Act.
It consists of the national symbol of a crowned rampant lion holding a battle axe inside a circular frame, the silver fineness mark and the maker's mark.



In 1892, silver fineness was standardized at .830 and the mark 830S became compulsory. In 1920, standard .925 started to replace .830 purity.
At the present purity 999, 925, 830 and 800 are admitted for silver items, but .925 is the foremost standard in use.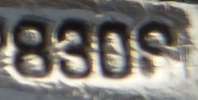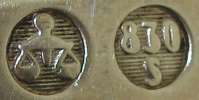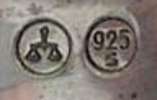 The "NM" mark often present in Norwegian silver is the abbreviation of "Norskt Mönster" meaning Norwegian pattern. It is a kind of a copyright mark for Norway




NORWEGIAN / NORWAY MAKER'S MARKS



Magnus Aase - Bergen
---


David Andersen - Oslo
---

Andresen & Scheinpflug - Oslo
---

Marius Hammer - Bergen (1847 - 1927)
---

Nils Hansen - Oslo Sølvvareverksted - Ørje (1909 - 2002)
---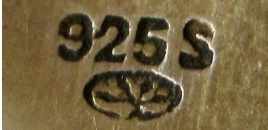 Gustav Hellstrom - Stavanger (1868 - 1957)
---

Kristian M. Hestenes - Bergen
---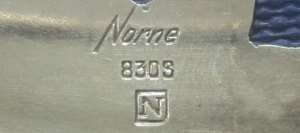 Aksel Holmsen - Sandefjord
Workshop established in 1904. His son Ivar took over the company in 1950. Out of business in 1971.
---

Ivar T. Holth - Oslo
---

Ottar Hval - Oslo
---

Finn Jensen - Oslo
Apprenticed to J. Tostrup. Manufacturer of vermeil guilloche enamel jewellery from 1953. The workshop continued activity after his death (1976)
---

Frank & Regine Juhls - Kautokeino
---

Johan G. Kjaerland - Bergen
---

Brødrene Lohne - Bergen
---


Thorvald Marthinsen Sølvvarefabrik - Tonsberg
---

Henrik Møller - Trondheim
---

Hans Myhre - Oslo
In the early 1950s bought Hroar Prydz and Bernhard Meldahl jewelry businesses. Myhre & Prydz lines where bought by David Andersen.
---

Brødrene Mylius - Kragerø
---

Theodor Olsen - Bergen
---

H.C. Østrem A/S - Drammen
---

Hroar Prydz - Oslo
Bought by Hans Myhre in the early 1950s
---

Karl A. Rasmussen - Oslo
---

Georg Johannes Ruud (1888-1957)
---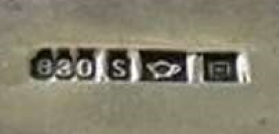 Saethers Gull- og Solvvarefabrikk - Oslo
---

Albert Scharning - Oslo
---

N.M. Thune - Oslo (1857 - present)
---


Jacob Tostrup - Oslo
---

Tone Vigeland - Fredrikstad (active 1961 - present)
Throughout her career Tone Vigeland has been represented in numerous exhibitions and galleries. Her work can be seen in Applied Arts Museums worldwide.
---

www.silvercollection.it
This is a page of 'The What is? Silver Dictionary' of A Small Collection of Antique Silver and Objects of vertu, a 1500 pages richly illustrated website offering all you need to know about antique silver, sterling silver, silverplate, Sheffield plate, electroplate silver, silverware, flatware, tea services and tea complements, marks and hallmarks, articles, books, auction catalogs, famous silversmiths (Tiffany, Gorham, Jensen, Elkington), history, oddities ...
HOME - SITE MAP - SILVER DICTIONARY - COOKIES CONSENT AND PRIVACY