SILVER HALLMARKS WORLDWIDE OVERVIEW
ARGENTINA - AUSTRALIA - AUSTRIA - BELGIUM - BRAZIL
The word "HALLMARK" derives from the fact that precious metals were sent to the London Goldsmiths' Hall for testing to ensure that the correct standard of silver had been used.
In most countries, silver objects are stamped with one or more hallmarks indicating the purity of the metal and the mark of the manufacturer or silversmith. Other marks can indicate the date of manufacture and additional information about the piece.
In some countries, the testing of precious metal objects and marking of purity is controlled by a national assay office.
Depending on the national legislation the use of hallmarks may be compulsory, voluntary or provided by a manufacturer's declaration.
This page presents a general overview on a series of national hallmarking systems. More detailed information and further hallmarks are available following the respective links.


---
COUNTRY: A-B C-F G-L M-R S-Z
---
ARGENTINA
Unofficial standard marks started to be used in the late 19th century.
From c.1875 to 1959 the marks consisted of the name or the symbol of the maker and the silver fineness (.800, .900 or .925).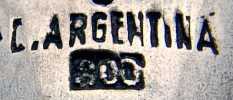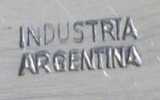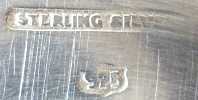 From 1959 a lozenge shaped mark is used for silver fineness.



---
AUSTRALIA

1

2

3

4

5
1: Alexander Dick, New South Wales, c. 1837 2: Fairfax & Roberts, Sydney, since 1920 3: William Kerr, Sydney, active 1870s/1930s 4: Arold F. Sargison, Hobart, active 1920 - c.1980 5: Jochim Matthias Wendt, Adelaide, c.1850s- c.1910s

No form of official mark or date letter system was introduced into the hallmarking of Australian silver. Early Australian silversmiths marked their objects with their full name or initials and imitations of English hallmarks as leopard's heads, lions and anchors. In 1988 was formed the Gold and Silversmiths Guild of Australia. A voluntary system of marking was introduced (maker's mark, standard mark, guild mark and date letter).

AUSTRALIAN MARKS PAGES


---
AUSTRIA

1

2

3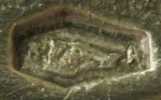 4

5

6

7
1: 13 lot fineness, 1810-1866 2: large articles, .800 fineness, 1872-1922 3: large articles, .750 fineness, 1872-1922 4: small articles, .750 fineness, 1872-1922 5: Vienna import mark 1872-1902 6: Vienna import mark 1902-1937 7: .800 fineness, 1922-2001

AUSTRIA-HUNGARY HALLMARKS PAGE

REPUBLIC OF AUSTRIA MARKS PAGE


---
BELGIUM

1

2

3

4

5

6

7

8

9
1: .934 fineness, 1814-1831 2: .833 fineness, 1814-1831 and Assay Office Gand/Gent (D) 3: warranty mark, 1814-1831 4: 'recense' 1831 5: .950 fineness, 1831-1868 6: .800 fineness, 1831-1868 7: warranty mark, 1831-1868 8: Assay Office Liège/Luik (D), 1831-1868 9: .900 and .800 fineness, voluntary mark, 1869-1942

From 1942 to 1990 silverware was marked on a voluntary basis with a four-petal flower and the fineness mark featured the letter A followed by the fineness indication within an oval frame.
Silver fineness was .900 and .800 (1942-1990, letter code A), raised to .925 and .835 after 1990 (letter code AG)



.800 fineness and Walraevens & Cie maker's mark



.830 fineness and J. Roosen, Bruxelles maker's mark (note the use of A830 unknown to literature)

BELGIUM MARKS PAGE

BELGIUM PRESENT MARKS PAGE


---
BRAZIL
In the 19th century there was no official silver control in Brazil and silversmiths emulated hallmarks from Portugal, France and the UK to better sell their products. In fact the quality of the work was good but the public, apparently, preferred foreign hallmarks, even fake ones.


1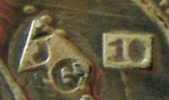 2

3

4


5
1: Rio de Janeiro, maker Bennassi Bernard, c.1810 2: José Ferreira Guimaraes, c. 1850 3: Rio de Janeiro, unidentified maker 4: Rio de Janeiro, Francisco Duarte Graça, circa 1854 5: Rio de Janeiro, Francisco Duarte Graça, circa 1854 and pseudo Lisbon hallmark

BRAZIL MARKS PAGE


---
CANADA


CANADIAN MAKER'S MARKS PAGE
---
CHANNEL ISLANDS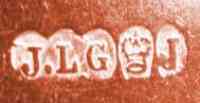 CHANNEL ISLANDS MAKER'S MARKS PAGE
---
DENMARK
The first Danish hallmarking was made in Copenhagen at the end of the 15th century.
Later, other cities as Aalbotg, Aarhus, Odense and Viborg introduced their own mark as a guarantee of precious metals.
In 1893 the "Three-tower" mark of Copenhagen was adopted as the national mark in the new standardized hallmarking system. Copenhagen had the only Assay Office in Denmark.









DANISH HALLMARKS PAGE
---
ESTONIA
Russian hallmarks were used from 1840 to 1918 and from 1946 to 1990
In the period 1919-1924 was used a re-hallmarking mark "EW + flower" (Eesti Wabariik/Estonian Republic). Silver content was expressed in zolotniki (84) The lion moving left mark into an oval together with silver content (800, 875, 900 and 935) was introduced in 1922. A similar mark was reinstated after independence from Soviet Union.


1

2

3

4

5

6
1: re-hallmarking mark 1919-1924 2: re-hallmarking mark 1919-1924 3: Russian/Estonian mark - unidentified Moscow silversmith and Joseph Kopf (Tallinn) 4: Hirsch Markowitsch (Tallinn) 5: Richard Lange 6: Theodor Grühn (Tallinn)

ESTONIA MARKS PAGE

ESTONIA PRESENT MARKS PAGE


---
FINLAND
Finland was part of the Kingdom of Sweden until 1809 when it was ceded to Russia becoming an autonomous province.
Hallmarking in Finland was compulsory since 1754 and a date mark system introduced in 1759.
In 1810 the Swedish hallmarking system was abandoned and a new sequence of date letters introduced.

Since 1810 the national mark is one crown in a hearth shaped contour.



FINNISH HALLMARKS PAGE
---
FRANCE
ANCIENT HALLMARKS (ANCIEN REGIME)


1

2

3

4
1 silversmith mark André-Denis Nesme c. 1720 2: mark of charge 1703-1708 3: mark of discharge 1717-1722 4: mark of 'jurande' 1774-1775

FRENCH ANCIEN REGIME HALLMARKS PAGE

FROM 1798 TO PRESENT


1

2

3

4

5

6

7

8

9

10
1: .950 fineness, Paris 1798-1809 2: France: .800 fineness, Paris 1798-1809 3: .950 fineness, Paris 1809-1819 4: .800 fineness, Paris 1809-1819 5: Guaranty medium objects Paris, 1809-1819 6: .950 fineness, Paris 1819-1838 7: Guaranty large objects, Paris 1819-1838 8: .950 fineness, 1838-1873 9: .800 fineness, 1838-1873 10: Export silver, 1878-1973

FRENCH HALLMARKS 1798 - PRESENT PAGE


---
GERMANY

GERMANY MARKS FROM 1888 PAGE








GERMANY ANCIENT MARKS

GERMANY HANAU MARKS

GERMANY PRESENT MARKS PAGE
---
HUNGARY
The Austro-Hungarian Compromise of 1867 elevated Hungary's status by the creation of a joint monarchy with the Austrian Empire, ruled in personal union as Austria-Hungary by the Austrian emperors during 1867-1918. After the First World War and the dissolution of the Habsburg Monarchy, Hungary became a Republic continuing to use Austro-Hungarian silver hallmarks until 1937. Afterwards, five silver hallmarks change have been occurred, 1937, 1966, 1999, 2006 and the last in 2016.


1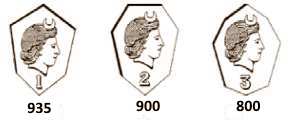 2

3
1: 1866 - 1937 2: 1937 - 1966 3: 1966 - 1999

HUNGARY MARKS PAGE


---
IRAN (PERSIA)
First silver marks showing the maker's name and his city came into use in late 19th century.
Imitation of 84 Russian marks appeared c. 1890, possibly introduced by Armenian goldsmiths emigrated to Tabriz.
National marks with the "Armed Lion" in various shapes (fineness .840 and .900) were introduced in 1967.
The last shah was deposed in 1979 and Republican marks were intended to be introduced.






84 imitation of Russian mark (meaning .840 rather than .875) and Parsi 84




"Armed Lion" mark 1967-1979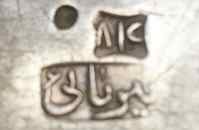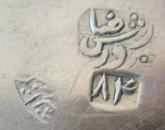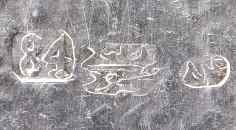 ---
ITALY
ANCIENT STATES


1

2

3

4

5

6

7
1: Genoa 2: Lombardo Veneto 3: Naples 4: Rome 5: Turin 6: Sicily 7: Venice

ITALIAN ANCIENT STATES HALLMARKS PAGES: GENOA LOMBARDO VENETO NAPLES ROME TURIN SICILY VENICE

FROM 1872 TO PRESENT


1

2

3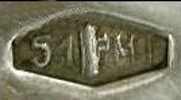 4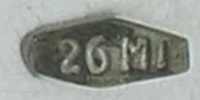 5

6
1: .950 fineness, 1872-1935 2: .900 fineness, 1872-1935 3: .800 fineness, 1872-1935 4: town and maker's code, 1935-1944 5: town and maker's code, 1945-1970 6: town and maker's code, 1971-present

ITALIAN HALLMARKS FROM 1872 PAGE


---
LATVIA
Russian hallmarks were used from 1840 to 1918 and from 1946 to 1990
From 1925/1927 to 1939 was used a slightly rounded corners rectangular mark containing a head with the Latvian crown and the silver fineness. A similar mark was reinstated after independence from Soviet Union.


1

2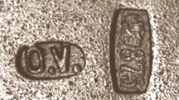 3

4

5

6
1: Russian/Latvian mark - unidentified PJS St. Petersburg silversmith 2: Bernhard Bergholtz (Riga) 3: Oskar Vük (Riga) 4: unidentified maker 5: unidentified maker 5: unidentified maker

LATVIA MARKS PAGE

LATVIA PRESENT MARKS PAGE


---
MALTA
The first silver hallmarking regulation was introduced by the military order of Knights Hospitaller in 1636. After the short period of French occupation (1798-1800) the island became de facto a British colony. Malta obtained Self Government in 1920, independence in 1964 and became a republic in 1974.





MALTA MARKS PAGE
---
MEXICO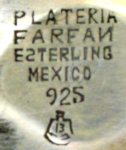 MEXICAN MAKER'S MARKS PAGE
---
THE NETHERLANDS


THE NETHERLANDS PRESENT MARKS PAGE
---
NORWAY
The modern Norwegian system of hallmarking came into effect after the 1891 Act.
It consists of the national symbol of a crowned rampant lion holding a battle axe inside a circular frame, the silver fineness mark and the maker's mark.
In 1892, silver fineness was standardized at .830 and the mark 830S became compulsory. In 1920, standard .925 started to replace .830 purity.
At the present purity 999, 925, 830 and 800 are admitted for silver items, but .925 is the foremost standard in use.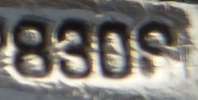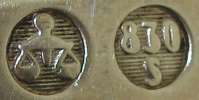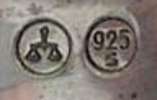 NORWEGIAN HALLMARKS PAGE
---
PERU
Peru is the second country with the largest silver reserves and the third world producer of silver. The country obtained independence from Spain in 1824.
In the 20th century Peruvian silver began to be marked with 925 and .925 fineness was adopted as "Plata de Ley".
The marks of modern silverware and jewelry take various forms and in most cases PLATA and PERU origin are quoted next to 925: PERU PLATA 925, PERU PLATA ESTERLINA 925, PLATA STERLING 925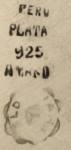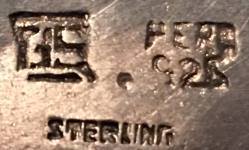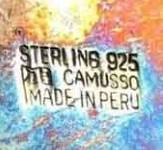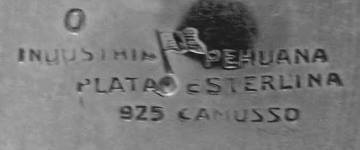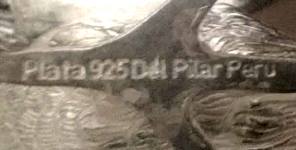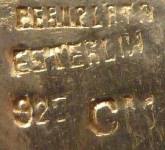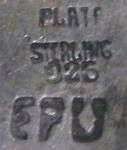 ---
POLAND
The independent existence of Polish territories ended in late 18th century after a series of invasions and partitions carried out by the Russian Empire, the Kingdom of Prussia, and the Austrian Habsburg Monarchy. Austro-Hungarian hallmarks were used in Krakow and other towns. A Russian Assay Office was established in Warsaw. After WWI Poland obtained independence in 1920 was introduced the new national hallmarking system.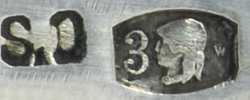 POLISH MARKS PAGE
---
PORTUGAL




PORTUGUESE MARKS PAGE
---
ROMANIA
Modern hallmarking of precious metals was introduced in 1906 by the Kingdom of Romania.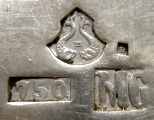 ROMANIA MARKS PAGE
---
RUSSIA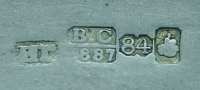 RUSSIAN ANCIENT MARKS PAGE

RUSSIAN ARTELS MARKS PAGE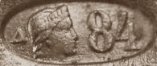 RUSSIAN KOKOSHNIK MARKS PAGE
---
SCOTLAND


SCOTTISH PROVINCIAL PAGE
---
SOUTH AFRICA
CAPE COLONY


1

2

3

4

5
1: Johannes Martinus Lotter 2: William Moore 3: Thomas Stephenson 4: Martinus Lourens Smith 5: Frederik Waldek

CAPE COLONY MARKS PAGES

SOUTH AFRICA: 20TH CENTURY


1

2

3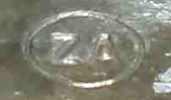 4
1: voluntary hallmark 1949 2: voluntary hallmark 1949 3: voluntary hallmark 1949 4: mark of origin from 2013 (ZA= South Africa)

SOUTH AFRICAN MARKS OF 20TH CENTURY PAGE


---
SPAIN
In 1934 the Spanish hallmarking system was organized on three types of marks:
- fineness mark, in the form of a "five-point star" for 915/1000 purity (plata de ley) and a "six-point comet" for 750/1000 purity (plata de segunda)
- maker's mark in a hexagonal contour
- assay office code, as a letter code stamped in the fineness mark star (this code was rarely used)




left: .915 fineness after 1934 right: .750 fineness after 1934



1

2

3
1: .915 fineness mark after 1934 2: .915 fineness mark after 1934 with Barcelona Assay Office letter (B) 3: .750 fineness after 1934

ANCIENT MARKS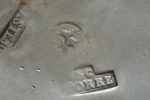 1

2

3

4
1: silversmith Antonio Castejon, Cordoba, 1836, assayer Marcial De La Torre 2: Madrid, 19th century 3: Palma de Mallorca, 19th century 4: Madrid, 19th century

SPAIN ANCIENT MARKS PAGE

SPAIN MARKS PAGE


---
SRI LANKA (CEYLON)
The country obtained independence in 1948. Silver manufactured in the mid-20th century is marked with a stylized lion holding a sword.



Present silver is marked with the Assay Office Mark and the Silver standard mark. The legal standards are .999, .925 and .800.


---
SWEDEN
The present form of National Control Mark started in 1901 consisting of the three crowns of the Swedish coat of arms in a trefoil shape, the hexagonal frame with"S" indicating the minimum silver standard of .800, the town, the date code and the maker's mark.


SWEDISH MARKS PAGE AND DIRECTORY OF MAKERS
---
SWITZERLAND
1881 - 1995
Until 1881 there was no uniform system of hallmarking in Switzerland. Before that time, hallmarking was undertaken at the local level by the Swiss cantons. With the introduction of the Swiss system of hallmarking in 1881, there was uniformity throughout the nation.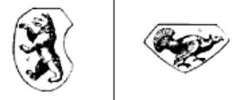 1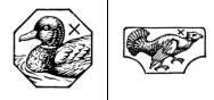 2
1: silver hallmarks 1881-1933 2: silver hallmarks 1933-1995

SWISS MARKS 1881-1995 PAGE

SWITZERLAND PRESENT MARKS PAGE


---
UNITED KINGDOM







UK HALLMARKING SYSTEM PAGE




UK PRESENT MARKS PAGE
HOW TO READ ENGLISH SILVER MARKS
---
UNITED STATES OF AMERICA
The identification and dating of American silver presents problems because, unlike England and other countries, no official stamps or date letters were used. Nor was there ever established a guild hall for keeping records. Therefore, it is only through the identification of maker's marks and trademarks that the names of silversmiths and manufacturers can be traced.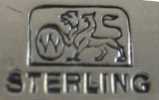 AMERICAN MAKER'S MARKS PAGES
---
COUNTRY: A-B C-F G-L M-R S-Z
---

www.silvercollection.it
This is a page of 'The What is? Silver Dictionary' of A Small Collection of Antique Silver and Objects of vertu, a 1500 pages richly illustrated website offering all you need to know about antique silver, sterling silver, silverplate, Sheffield plate, electroplate silver, silverware, flatware, tea services and tea complements, marks and hallmarks, articles, books, auction catalogs, famous silversmiths (Tiffany, Gorham, Jensen, Elkington), history, oddities ...
HOME - SITE MAP - SILVER DICTIONARY - COOKIES CONSENT AND PRIVACY