SILVER HALLMARKS WORLDWIDE OVERVIEW
MALTA - MEXICO - THE NETHERLANDS - NORWAY - PERU - POLAND - PORTUGAL - RUSSIA
The word "HALLMARK" derives from the fact that precious metals were sent to the London Goldsmiths' Hall for testing to ensure that the correct standard of silver had been used.
In most countries, silver objects are stamped with one or more hallmarks indicating the purity of the metal and the mark of the manufacturer or silversmith. Other marks can indicate the date of manufacture and additional information about the piece.
In some countries, the testing of precious metal objects and marking of purity is controlled by a national assay office.
Depending on the national legislation the use of hallmarks may be compulsory, voluntary or provided by a manufacturer's declaration.
This page presents a general overview on a series of national hallmarking systems. More detailed information and further hallmarks are available following the respective links.


---
COUNTRY: A-B C-F G-L M-R S-Z
---
MALTA
The first silver hallmarking regulation was introduced by the military order of Knights Hospitaller in 1636. After the short period of French occupation (1798-1800) the island became de facto a British colony. Malta obtained Self Government in 1920, independence in 1964 and became a republic in 1974.





MALTA MARKS PAGE
---
MEXICO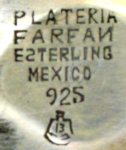 MEXICAN MAKER'S MARKS PAGE
---
THE NETHERLANDS

THE NETHERLANDS 1807-1953 MARKS PAGE
THE NETHERLANDS PRESENT MARKS PAGE
---
NORWAY
The modern Norwegian system of hallmarking came into effect after the 1891 Act.
It consists of the national symbol of a crowned rampant lion holding a battle axe inside a circular frame, the silver fineness mark and the maker's mark.
In 1892, silver fineness was standardized at .830 and the mark 830S became compulsory. In 1920, standard .925 started to replace .830 purity.
At the present purity 999, 925, 830 and 800 are admitted for silver items, but .925 is the foremost standard in use.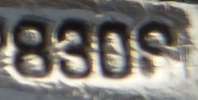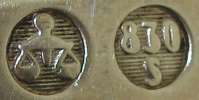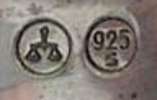 NORWEGIAN HALLMARKS PAGE
---
PERU
Peru is the second country with the largest silver reserves and the third world producer of silver. The country obtained independence from Spain in 1824.
In the 20th century Peruvian silver began to be marked with 925 and .925 fineness was adopted as "Plata de Ley".
The marks of modern silverware and jewelry take various forms and in most cases PLATA and PERU origin are quoted next to 925: PERU PLATA 925, PERU PLATA ESTERLINA 925, PLATA STERLING 925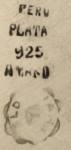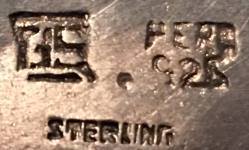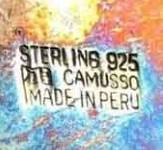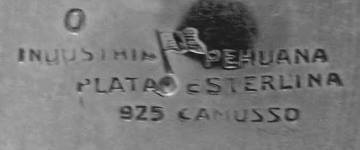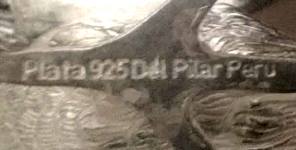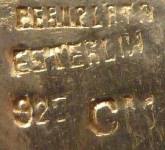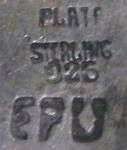 ---
POLAND
The independent existence of Polish territories ended in late 18th century after a series of invasions and partitions carried out by the Russian Empire, the Kingdom of Prussia, and the Austrian Habsburg Monarchy. Austro-Hungarian hallmarks were used in Krakow and other towns. A Russian Assay Office was established in Warsaw. After WWI Poland obtained independence in 1920 was introduced the new national hallmarking system.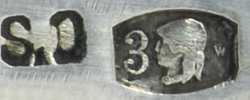 POLISH MARKS PAGE
---
PORTUGAL





PORTUGUESE MARKS PAGE
---
ROMANIA
Modern hallmarking of precious metals was introduced in 1906 by the Kingdom of Romania.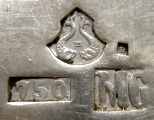 ROMANIA MARKS PAGE
---
RUSSIA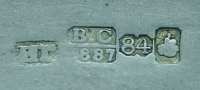 RUSSIAN ANCIENT MARKS PAGE

RUSSIAN ARTELS MARKS PAGE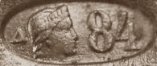 RUSSIAN KOKOSHNIK MARKS PAGE
---
COUNTRY: A-B C-F G-L M-R S-Z
---

www.silvercollection.it
This is a page of 'The What is? Silver Dictionary' of A Small Collection of Antique Silver and Objects of vertu, a 1500 pages richly illustrated website offering all you need to know about antique silver, sterling silver, silverplate, Sheffield plate, electroplate silver, silverware, flatware, tea services and tea complements, marks and hallmarks, articles, books, auction catalogs, famous silversmiths (Tiffany, Gorham, Jensen, Elkington), history, oddities ...
HOME - SITE MAP - SILVER DICTIONARY - COOKIES CONSENT AND PRIVACY