EUROPEAN COUNTRIES SILVER AND GOLD HALLMARKS
THE NETHERLANDS (1807 - 1953)
A silver or gold object that is to be sold commercially is, in most countries, stamped with one or more hallmarks indicating the purity of the metal and the mark of the manufacturer or silversmith
The word "HALLMARK" derives from the fact that, since the 16th century, precious metals were sent to the London Goldsmiths' Hall for testing to ensure that the correct standard of silver had been used. The Goldsmiths' Hall was the headquarters of the Goldsmiths' Company and the home of the Assay Office.
The United Provinces of the Netherlands obtained independence from Spain in 1579. They were occupied by French in 1795 and were brought together as one kingdom in 1815 after the defeat of Napoleon.
Since the late 14th century the guilds of goldsmiths and silversmiths were charged with the task of hallmarking precious metal wares.
In 1798 the French occupants abolished the guilds and a new hallmarking system was introduced during the short living Kingdom of Holland of Louis Bonaparte (1807-1810).
In 1810 the Kingdom of Holland was annexed to French Empire and French hallmarks were used until 1814.
In 1814 the new Kingdom of the Netherlands adopted a standard national system of hallmarks that were maintained until 1953.
KINGDOM OF HOLLAND HALLMARKS (1807-1810)




ANNEXATION TO FRENCH EMPIRE (1811-1814)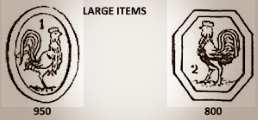 KINGDOM OF THE NETHERLANDS (1814-1953)



Silver fineness marks large items: .934 and .833


Silver fineness marks small items: .833





Regional Assay Office mark
Identification letters: A - Amsterdam (closed 1988) B - Utrecht (closed 1986) C - The Hague ('s-Gravenhage) (closed 1988) D - Rotterdam (closed 1988) E - Groningen (closed 1927) F - Leeuwarden (closed 1984) G - Zwolle (closed (1878) H - Arnhem (closed 1970) I - Breda (closed 1875) J - Joure (opened 2002) K - Den Bosch ('s-Hertogenbosch) (closed 1986) L - Middelburg (closed 1889) M - Schoonhoven (closed 1987) N - Maastricht, (the letter M used 01-03-1842/11-01-1844, assay office closed in 1927) O - Roermond (closed 1868) P - Alkmaar (closed 1924) Q - Roosendaal (closed 1927) R - Gouda (opened 1988)



Duty marks for unguaranteed silver objects of national origin



Duty marks for unguaranteed silver objects of foreign origin

www.silvercollection.it
This is a page of 'The What is? Silver Dictionary' of A Small Collection of Antique Silver and Objects of vertu, a 1500 pages richly illustrated website offering all you need to know about antique silver, sterling silver, silverplate, Sheffield plate, electroplate silver, silverware, flatware, tea services and tea complements, marks and hallmarks, articles, books, auction catalogs, famous silversmiths (Tiffany, Gorham, Jensen, Elkington), history, oddities ...
HOME - SITE MAP - SILVER DICTIONARY - COOKIES CONSENT AND PRIVACY