MARTELE (GORHAM)

Martelé was produced at the end of the 19th/beginning 20th century in Gorham's Providence's plant (Rhode Island) by masters silversmiths under the direction of William C. Codman.
Each artisan handcrafted an entire piece as ancient silversmiths once did.
Production included bowls, tankards, vases, chambersticks, claret sets, letter openers, candlesticks, porringers, mugs, cigar lighters, inkwells, centerpieces, tea and coffee sets.
Martelé is entirely hand raised, chased and engraved. In authentic Martelé the feet, foot, base of each item that does not lay flat are a part of the object. The hammer marks are visible, hand work is evident even with polished finishes. On the interior of a Martelé item is evident that the exterior decoration is punched or hammered out from the interior. On Martelé objects undulating "rolled lips" led outward by hand or edges, rims.
Martelé production was separated by Gorham's commercial line and its pieces were one-of-a-kind and expensive objects for selected customers.
The trade name Martelé derives from the French verb "marteler" (to hammer), denoting the distintive hand-hammered surface of the silverware.




To an American public firmly convinced that things French were innately superior, the resounding success of Martelé silver at the 1900 Exposition Universelle did much to ensure an enthusiastic reception of home.
Early production was made of sterling silver (.925 fine). From 1898 until 1905 a more malleable alloy (.950 fine) and from 1905 a .9584 fine (similar to Britannia silver) alloy was used.
In spite of the success of the Martelé line, American taste began to shift away from the exuberant forms and decorations of the Art Nouveau style after 1906.
Although the line was produced through 1912, orders for it steadly declined and the Company did accept only special orders after that date.
A definition of Martelé production from Silver for the Dining Room, Selected Periods by John S. Holbrock printed in 1912 reads:


MARTELE'

Forms variable, frequently classic, often fantastic;
decoration subservient to form, largely natural,
not conventionalized; ornaments always raised but
melting away into the background;
non-symmetrical, mouldings entirely
lacking; plain surfaces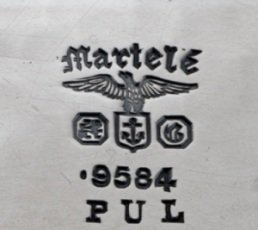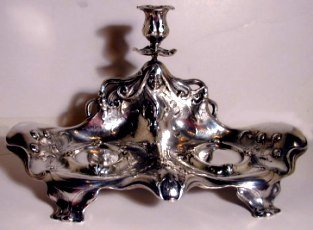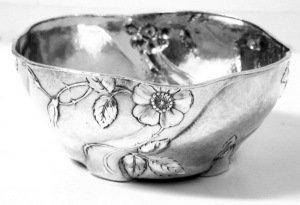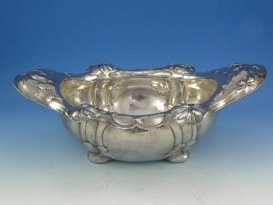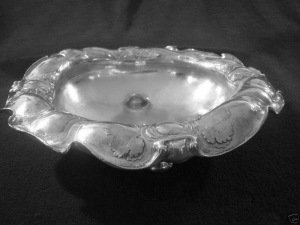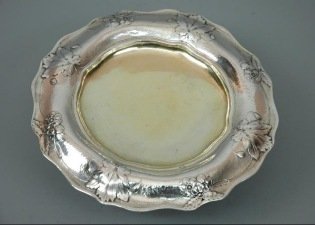 www.silvercollection.it
This is a page of 'The What is? Silver Dictionary' of A Small Collection of Antique Silver and Objects of vertu, a 1500 pages richly illustrated website offering all you need to know about antique silver, sterling silver, silverplate, Sheffield plate, electroplate silver, silverware, flatware, tea services and tea complements, marks and hallmarks, articles, books, auction catalogs, famous silversmiths (Tiffany, Gorham, Jensen, Elkington), history, oddities ...
HOME - SITE MAP - SILVER DICTIONARY - COOKIES CONSENT AND PRIVACY