The origins of Gorham are in 1831 when the firm of Jabez Gorham was joined by Henry L. Webster in the Gorham & Webster.
In its history the firm assumed these names: Gorham & Webster (1831-1837), Gorham Webster & Price (1837-1841), J. Gorham & Son (1841-1850), Gorham & Thurber (1850-1852), Gorham & Company (1852-1865), Gorham Mfg. Co. (1865-1961), Gorham Corp. (from 1961).
The company moved into a new headquarters in Providence, RI in 1890 as employment surpassed 500, and in 1905 they opened a retail outlet on Fifth Avenue in New York City. Throughout the latter half of the 19th century and into the 20th, Gorham attracted some of the best designers and silver artisans in the world.
Their rapidly expanding business of doing one-of-a-kind pieces on commission for major world figures and events expanded their profile and introduced Gorham to an international clientele.
The decline of Gorham began in 1967, when the company was purchased by Textron, a move that some critics claim decreased quality due to management's lack of understanding of Gorham's specialty, producing high-quality sterling silverware and holloware.
Textron sold the company to Dansk International Designs in 1989.
Brown-Forman Corporation acquired Gorham from Dansk in 1991 and in 2005 resold the unit to Department 56 in the Lenox holdings transaction, with the resulting company renamed as Lenox Group.
However, in 2009 Lenox Group filed for Chapter 11 bankruptcy and it was subsequently acquired by Clarion Capital Partners, operating under the name Lenox Corporation, which has three operating divisions, Lenox, Dansk and Gorham.
Gorham is now (2020) property of Lifetime Brands, Inc. owner of other historic brands as International Silver, Kirk Stieff, Poole, Towle Silversmiths, Tuttle and Wallace.
THE PREDECESSORS

Gorham & Webster mark, 1831-1837

Gorham Webster & Price, mark 1837-1841

J. Gorham & Son, mark 1841-1850

Gorham & Thurber, mark 1850-1852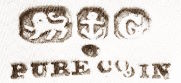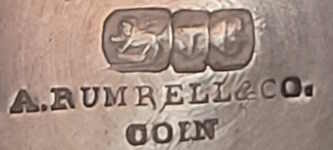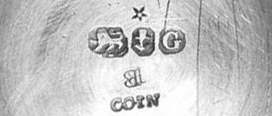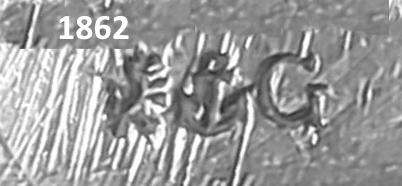 Gorham & Company, mark 1852-1865
GORHAM MFG CO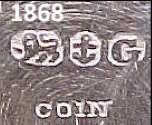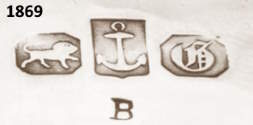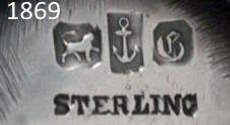 Gorham Mfg Co: a variety of marks until c. 1900: (
left to right
) 1868 - 1869 (x3) - 1871 - 1876 - 1880 - 1892 - 1897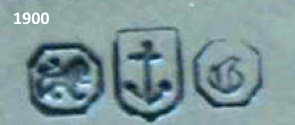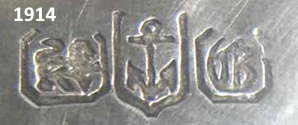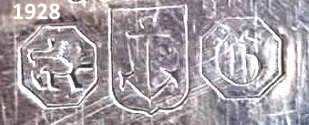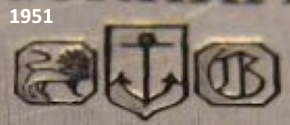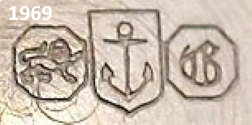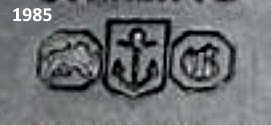 Gorham Mfg Co: a single type of mark from c. 1900 onwards: (
left to right
) 1900 - 1914 - 1928 - 1951 - 1969 - 1985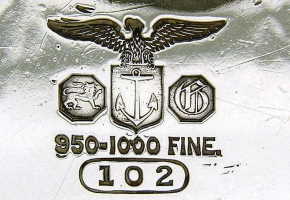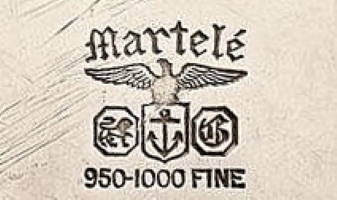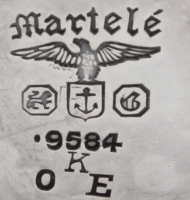 Gorham Martelé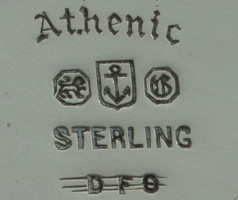 Gorham Athenic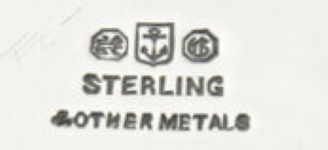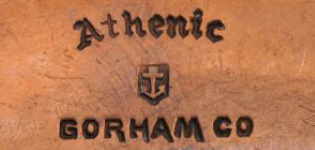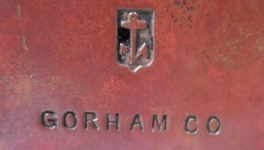 Gorham Mixed and Other Metals marks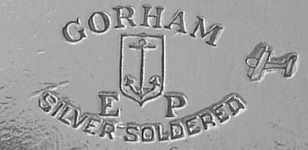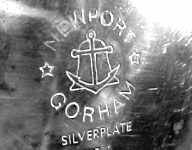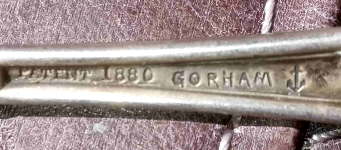 Gorham silverplate
(from c. 1867)
GORHAM IN THE UK
Gorham Mfg Co acted as importer in the UK and, later, sponsor/maker of sterling silver ware manufactured in the UK. Their first English agency has been opened in London in 1894 (32 Essex Street, Strand). New showrooms were opened in 1904 (Ely Place, Holborn). In 1909 they took an English factory, previously owned by Henry Emanuel of Birmingham who remained as superintendent. Adjoining Time Works, the premises of William Erhardt Ltd, watch manufacturers (214 Barr Street, Birmingham) the factory was known as Sterling Works. Gorham, maintaining the factory until the outbreak of WWI, was a large exhibitor at the Jewellers' Exhibitions of 1913 and 1914. Gorham entered various GMCo hallmarks at Birmingham Assay Office and London Assay Office (1904, 1910) but the first mark was entered by John Henry Buck (JHB) in 1894 for the interest of Gorham as importer.



GORHAM DATING SYSTEM
When Gorham adopted the sterling standard in 1868, they began a system of year-marks which were stamped into their products to denote the year in which they were made. Starting with A for 1868, letters of the alphabet were used until 1884 (Q). From 1885 until 1933 a different symbol was used each year.
This dating system was used also on silver plate items.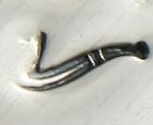 This is a preview of date marks symbols. Click on the images to view the complete series of Gorham year's date marks