INTERNATIONAL SILVER COMPANY
This is a page of A Small Collection of Antique Silver and Objects of vertu, a 1000 pages richly illustrated website offering all you need to know about antique silver, sterling silver, silverplate, sheffield plate, electroplate silver, silverware, flatware, tea services and tea complements, marks and hallmarks, articles, books, auction catalogs, famous silversmiths (Tiffany, Gorham, Jensen, Elkington, WMF, Reed & Barton, Mappin & Webb, Bateman Family), history, oddities ...
SITE MAP HOME PAGE

HISTORY AND MARKS
The international Silver Company was formed in 1898 by various independent New England silversmiths that, between 1898 and 1903, joined themselves together to form a company that became the world's largest manufacturer of silverware. The International Silver Co. was organized with an authorized capital of $20,000,000 and included the following companies each of which had won a place for itself in the silver world:
BARBOUR SILVER CO. (Hartford),
DERBY SILVER CO. (Derby),
HOLMES & EDWARDS SILVER CO. (Bridgeport),
MANHATTAN SILVER PLATE CO. (Lyons, N.Y.),
MERIDEN BRITANNIA CO. (Meriden),
MERIDEN SILVER PLATE CO. (Meriden),
MIDDLETOWN PLATE CO. (Middletown)
NORWICH CUTLERY CO. (Norwich),
ROGERS CUTLERY CO.,
ROGERS & BROTHER (Meriden),
ROGERS & HAMILTON CO. (Waterbury),
SIMPSON HALL MILLER & CO. (Wallingford),
SIMPSON NICKEL SILVER CO. (Wallingford),
STANDARD SILVER COMPANY LTD (Toronto, Canada)
WATROUS MFG CO. (Wallingford),
WILCOX SILVER PLATE CO. (Meriden),
WILLIAM ROGERS MFG CO. (Hartford)
UNITED STATES SILVER CORPORATION including C. ROGERS & BROTHERS (Meriden).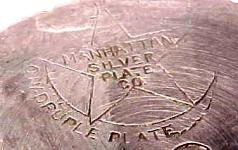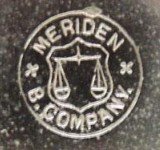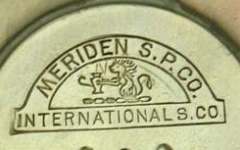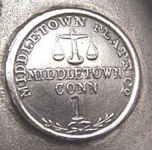 Manhattan Silver Plate Co - Meriden Britannia Company - Meriden Silver Plate Co - Middletown Plate Co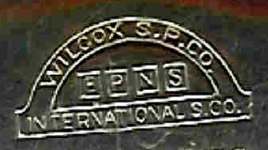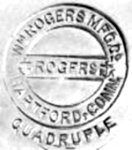 Watrous Mfg Co - Wilcox Silver Plate Co - William Rogers Mfg Co


Other companies became part of International Silver Company, either directly or indirectly through one of the companies mentioned above:
International Silver Company and its factories were active in the whole Meriden-Wallingford area becoming possibly the larger center for silver craftsmanship in the US. The peak of the production was reached in the late 1930s.
The production of sterling hollowware continued until 1976 while the silver plated hollowware business was sold to Oneida Silversmiths in 1981.

Besides the marks bearing its own name or the name of one of the companies organized in the International Silver Company, the silverplate production was marked with a wide array of trademarks:

The International Silver Company was sold in 1984 to Katy Industries Inc. changing its name to Wallace International Silversmiths, Wallingford, Connecticut.
This firm markets International Sterling flatware and silverplated flatware under various trademarks (e.g. 1847 Rogers Bros, International Deepsilver,).
In 1986 the business was purchased by a subsidiary of Syratech Corporation.
International Silver Co is now (2020) property of Lifetime Brands, Inc. owner of other historic brands as Gorham, Kirk Stieff, Poole, Towle Silversmiths, Tuttle and Wallace.
| | |
| --- | --- |
| ANGELIQUE - first production 1959 | BRIDAL VEIL - first production 1950 |
| BROCADE - first production 1950 | BLOSSOM TIME - first production 1950 |
SILVERPLATE AND ELECTROPLATED SILVER OF USA AND CANADA
FIGURAL MARKS
anchors
,
animals
,
arrows
,
bells
,
birds
,
candelabra
,
crosses
,
crowns
fantastical entities
,
horses
human figures
,
lions
,
musical instruments
plants and vegetables
,
stars
swords axes blades
,
tools
,
windmills
,
others
STERLING SILVER OF USA AND CANADA